Law school isn't just a continuation of your undergraduate education.
Instead, it's an entirely different journey with new rules and new expectations.
Preparing yourself for law school can start as early as high school, but we'll skip to how you can prepare as an undergraduate student.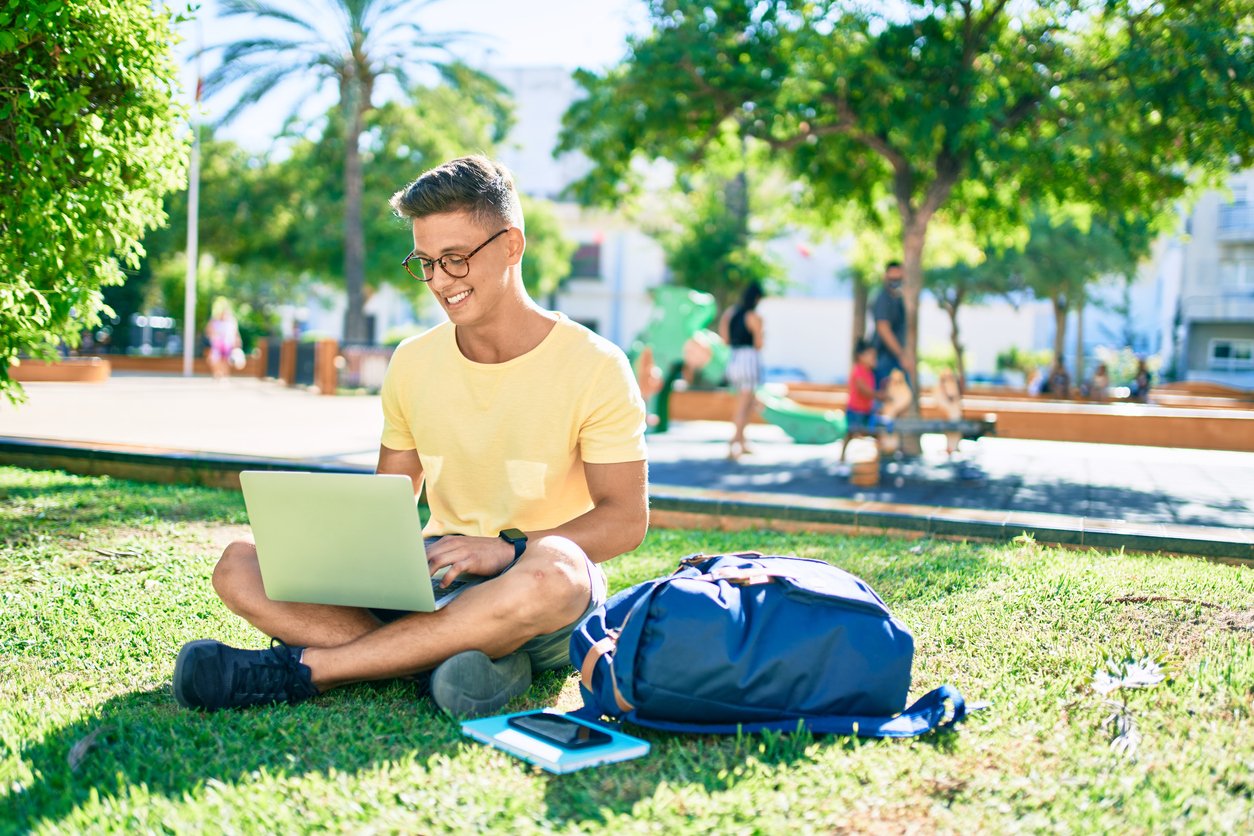 How to Prepare for Law School in Undergrad
While you're in college, there are a lot of things you can do to prepare if you know you'll be attending law school right after you graduate. Here are the most important things you should focus on.
Get good grades
Law schools evaluate your academic potential by your GPA and other factors, so keeping your grades up is key. This doesn't mean you should take easy classes to just skate through your undergrad curriculum, however. Instead, you should take academically rigorous courses that will challenge you and show off your academic performance to the law schools you apply to.
Study for the LSAT
Studying for the LSAT can start months before you decide to apply to law school. Because your test scores are such an important step in preparing for law school applications, make sure you leave enough time to study for the LSAT, take it, and retake it, if needed. To get a more detailed view of this timeline, you can read our article on the law school application process.
Choose your classes wisely
In addition to getting good grades, taking courses that challenge you and show a variety of skills can help you prepare for key law school areas, including problem solving, critical reading, writing and editing, and research. The American Bar Association (ABA) lists these four areas, along with several more, as core skills, values, knowledge, and experience for a solid foundation for a legal education. Courses that require you to read, comprehend, write, and analyze, such as literature, philosophy, political science and history, can help build your strength in multiple areas.
Choose the right major
Your curriculum will be guided, in part, by your major. While choosing the "right" major isn't the end-all-be-all in preparing for law school, what you decide to study can help you prepare for law school in those key areas listed above. Read our article on how to choose the right major for law school to get more information on how important this is in preparing for law school.
Build relationships with your professors
Connecting with your professors has one obvious benefit — you'll need those letters of recommendation when you go to apply to law school. However, they can also mentor you and help you develop those foundational skills you'll need to succeed in law school.
Participate in extracurricular activities
Even though you need to dedicate a lot of time to your studies to earn good grades, you should also take the time to participate in student organizations like student government, community service, the pre-law society, or working for student publications. Don't spread yourself too thin — instead, choose a few things, and get a lot of experience in them.
Plan your finances
Financial aid and scholarships are a big part of how you will finance your legal education. If you've already incurred student debt as part of your undergraduate education, you'll need to consider that and all other financial factors when deciding how you'll pay for your legal education.
How to Prepare for Law School the Summer Before
You've made it through your undergraduate education and been accepted to law school. Congratulations! The summer before law school is an exciting and nerve-wracking time. Here's what you can do the summer before law school to prepare.
Connect with students at your law school
Get advice from current law students or recent alumni, if possible. What campus activities did they enjoy? What were their study habits?
Stetson Law offers a Student Ambassador Program that starts at orientation. According to Bryanna Green, Stetson Law Class of '19, "As a mentor for 1ls, we're going to meet you at your very first day of orientation, we'll be there all day through, guiding you along, and from there on you're stuck with us, as we would say. We're there to give you tips and advice, not just about school, but especially if you're new to the area or just new to the environment, we're there to help you, be a friend, and be someone you can talk to. If you don't know anyone, we're that one person that you'll 100% always have no matter what. It really helped me my 1L year, having that person you can go to."
Create a study plan
Start to think about how you're going to manage your workload. Where do you like to study? What keeps you motivated? How can you eliminate distractions? What note-taking method works best for you? Thinking through all of these questions can help you build successful study habits once the semester starts.
Consider your career goals
Setting — or at least thinking about — your career goals before you begin law school can help you focus on what you can do on campus, what courses you take, and how you talk with professors. If you don't know what you want to do yet, use this time to do some soul-searching.
Start reviewing legal concepts
While you won't be able to cram the entirety of your 1L studies into the summer, you can familiarize yourself with law school concepts you'll encounter in your 1L classes, like the Socratic method, as well as concepts of civil procedure, criminal law, legal writing, contracts, torts, property, and criminal law.
According to Ashley Cease, Assistant Director for Academic Success and Bar Prep and Instructor in Law, you can begin as soon as you get your official student email address.
"As soon as you get your Stetson credentials, you can go to the academic success web page and log in as a student and you'll see tons of resources. That's where we house a lot of our exam practice questions as well as a toolkit that you'll find that has tips on making the transition, the decision to come to law school, and everything from case briefing to outlining, and that's all online, so I'd encourage you to take a look at that before you get to campus."
Build up your reading stamina
Cease also recommends building up your reading skills. "The more pages you can read per day, increasing your speed of reading and the amount you're reading each day, that really is the biggest thing you can do to help prepare for that first month of law school."
If you're currently not a big reader, you should get in the habit of reading. Start by just seeing how much you can read for fun, and then start diving into law school-specific readings and resources.
Bryanna Green recommends spending the summer reading for fun.
"Read whatever you want to read, because once you get into law school — not to scare you or anything — but you're going to be doing a lot of reading for classes and reading for educational purposes. So, if you're a really big, avid reader now, and you're just reading for leisure and for pleasure, get in as many books as you can now that you like to read before you actually start law school."
Figure out your living situation and transportation
It's important to work out the logistics of your life in the Tampa Bay, Florida area, including where you'll live and how you'll get around. Getting that all set up before you start law school will ensure you can focus on your classes when the semester begins.
Start healthy habits
Maintaining a healthy lifestyle can help you manage stress and increase your energy level, both of which are crucial in staying focused and performing well in law school. Establishing small, healthy habits now can help when you're in the thick of assignments and exams.
Here are some small things you can do now that will pay off when you're a 1L.
Find a sport or activity you can do consistently. Whether it's running, dancing, or an intramural sport, finding a sport or activity that you enjoy doing consistently is key is staying active on a regular basis. Finding like-minded fellow students once you're in law school can help you continue doing whatever activity you choose.
Create an ergonomic study space. Lousy posture and slouched seating can harm your body over time, and you're going to spend a lot of time studying and reading while you're in law school. Whether you want to invest in a standing desk or get a comfy computer chair (or both), you should build a space now that will allow you to remain physically comfortable
Start eating right, little by little. By incorporating more fruits and vegetables into your diet — and by simply drinking more water — you'll find that you have more energy. A healthier diet can help your brain work better, help you sleep more, and give you more stamina. Start by keeping track of your water intake and by adding in one fresh fruit or vegetable into your diet a day.
Visit your law school campus (again)
Visiting your law school campus again for an informal tour is a great way to get comfortable before the first week of classes. And, you can explore the neighborhood, discover fun study spots, find things to do, and try places to eat.
Read, watch, and listen to resources on the law school experience
There are many books, movies, and podcasts you can listen to that will provide detailed accounts of the law school experience. Here are some resources to get you started:
Cease has a particular recommendation for incoming law school students.
"I would highly recommend A Short and Happy Guide to Being a Law Student. It really gives you an idea of why you're doing this, what the purpose of coming to law school is, and helps you think about that. And, it has some really good tips and strategies for dealing with some of the stress that comes with the transition to being a law school student."
Enjoy your free time
While you'll have things to do before orientation, it's important to remember to relax and have fun before you start law school. Your life is about to change, and so now's the time to hang out with friends and family before you embark on this incredible journey.
Incoming Students at Stetson Law Have Many Resources
Stetson Law provides multiple resources to ensure you're set up for success once you've started. In addition to the resources you can access once you receive your Stetson credentials, the Academic Success Center hosts workshops and other programming to boost your skills and confidence, according to Ashley Cease.
"As a 1L, we put on tons of workshops for you to help you prepare for classes and help you make the transition to a professional graduate program. We cover everything from time management and case briefing in our orientation break-out sessions , and we'll have further workshops on outlining, exam preparation and exam writing. We also have a group of student fellows who give peer feedback and who can assist you during your 1L year."
Our faculty are also available to help you from day 1. "One thing that is so special about Stetson is our faculty," said Cease. "They have an open door culture. They want to work with you, they want you to succeed, so all of your faculty will be happy to review practice problems and your writing with you before the class as well."
You can start law school confident and prepared by following these tips and taking advantage of the resources available at Stetson Law. We're dedicated to providing all of our students with a supportive environment that fosters their success.
Topics: Applying to Law School