Law students know the importance of finding a good place to sit down, pull out the books or a laptop, and focus on their studies. The right place to study can make studying easier and more enjoyable. Here are our top picks for places to study near our campus, plus a few places that are simply worth the trip.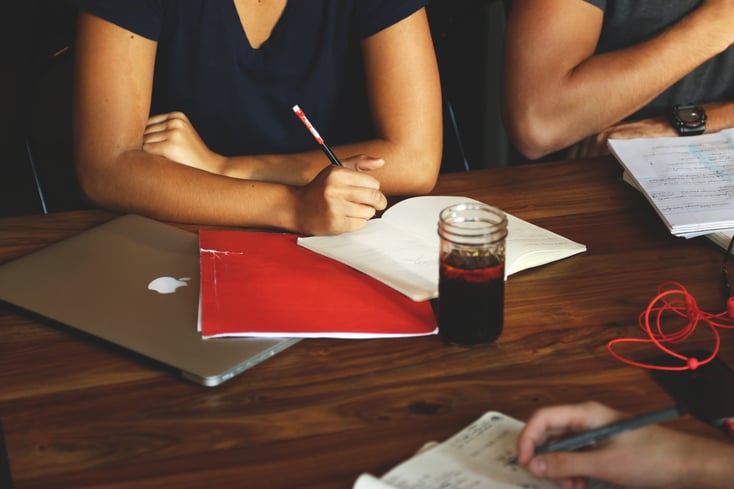 Libraries and Book Stores
Libraries and book shops are a great place to sit, study, and pick up new ideas. Here are some of our other favorite local spots:
The Dolly and Homer Hand Law Library
Stetson University College of Law
1401 61st St S, Gulfport, FL 33707
Stetson Law's library in Gulfport and its satellite library in Tampa form one of the Southeast's most advanced research and communications technology centers. The library system provides an extensive collection of online databases and digital resources, Wi-Fi access throughout the system, a comprehensive law-related DVD collection, and over 397,900 volumes. Seven professional law librarians, including five with both law and library degrees, offer individual support and reference assistance for all law students. The library system also includes 44 group-study rooms, and 24/7 swipe card access. There is a student laptop requirement.
St. Petersburg Public Library
3745 9th Ave N
Saint Petersburg, FL 33713
Along with quiet corners, comfy chairs, wi-fi, and private study rooms, this library offers computers for reference and internet access for those who need it. As one of the larger libraries in the area, there is always adequate seating and helpful staff available.
Largo Public Library
120 Central Park Dr
Largo, FL 33770
Everything you could want in a study spot, plus the convenience of a cafe that serves beverages and homemade food. This up-to-date library is full of helpful librarians, wi-fi, and quiet study rooms.
Oxford Exchange
420 W Kennedy Blvd
Tampa, FL 33606
While it is a little farther away from Gulfport, the Oxford Exchange is worth the drive. This brilliantly decorated bookstore offers ample seating, wonderful food, and the availability of paid wi-fi make this a great place to come, relax, and get ready for upcoming exams.
Coffee and Tea Shops
If you can't get through the day without a cup (or two) of caffeine, these are the places for you. Whether you need your fix in the morning or in the evening, these coffee and tea shops offer a great place to sit and study.
Bandit Coffee
2662 Central Ave
Saint Petersburg, FL 33712
Offering minimalist decor, lots of natural light, and plenty of specialty coffee to try. Friendly staff, snacks, wifi, and adequate seating makes this location a great spot to sit and stay a while.
Infused Tea Company
300 Beach Dr NE Ste 124
St. Petersburg, FL 33701
If your poison is tea, then this is the right location for you. With a full wall of teas, comfortable seating, free wi-fi, and a homey atmosphere, studying here is a breeze.
Indian Shores Coffee Company
19221 Gulf Blvd
Indian Rocks Beach, FL 33785
For coffee, tea, snacks, and a quiet beach getaway, look no further than the Indian Shores Coffee Company. With free wi-fi and outdoor seating, this beachfront location will become your new favorite study spot.


For Snacks and Studying
When you need a snack or a meal to go with your studying, these cafes and restaurants are a great choice.
Community Cafe
2444 Central Ave
St. Petersburg, FL 33712
With comfy couches, beverage and food menu, and outdoor seating, the Community Cafe is a great place to come and eat while you study for midterms.
First Watch
4045 N Tyrone Blvd
Suite 204
St. Petersburg, FL 33709
If you are a morning person and like to get a good start for the day, then this is the place for you. With great breakfast and brunch options, First Watch is the place for morning study sessions.
La Casa Del Pane
7110 Gulf Blvd
St Pete Beach, FL 33706
If a change of pace in a quaint Italian market, café, deli, and bakery, give La Casa Del Pane a try. With free wi-fi, attentive staff, delicious homemade food, and decadent cappuccinos, this shop may just become a new favorite study spot.
T and Me Tea
2908 1/2 Beach Blvd
Gulfport, FL 33707
The T and Me Tea is quirky, quaint, and friendly. A variety of teas, breakfast options, and fresh brewed coffee are available from 8am to 8pm most days. With available outdoor seating and free wi-fi, this location is great for individual or group study sessions.
Outdoor Locations
When the weather is perfect and the sun is shining, there is no better place to study than outside. Here are some of our favorite spots.
South Straub Park
200 NE Bayshore
St Petersburg, FL 33701
Located right on the water, this park is perfect for getting your blanket out, sitting down under a tree, and opening those books.
Demens Landing Park
Bayshore Dr and 2nd Ave S
Saint Petersburg, FL 33713
This well maintained and conveniently located park offers wide open spaces to drop down blankets or lawn chairs and get through studying when wifi isn't necessary. Plus, when you get restless there are restaurants and cafes nearby.
Pass-A-Grille Beach
113 11th Avenue
Pass-A-Grille Historic District, FL 33706
Pass-A-Grille beach is a local favorite, with a more relaxed atmosphere than many of the public beach access points. Camp out near the snack bar for access to tasty food and beverages, or spread your blanket near the pier to watch anglers and pelicans while you study.
Topics: Law School Insider Tips