So, you're considering applying to law school but worry your undergraduate program won't be adequate preparation.
As an English major, the closest you've come to reading a legal tome is enduring all 818 pages of Charles Dickens's "Bleak House" and the interminable case of Jarndyce and Jarndyce.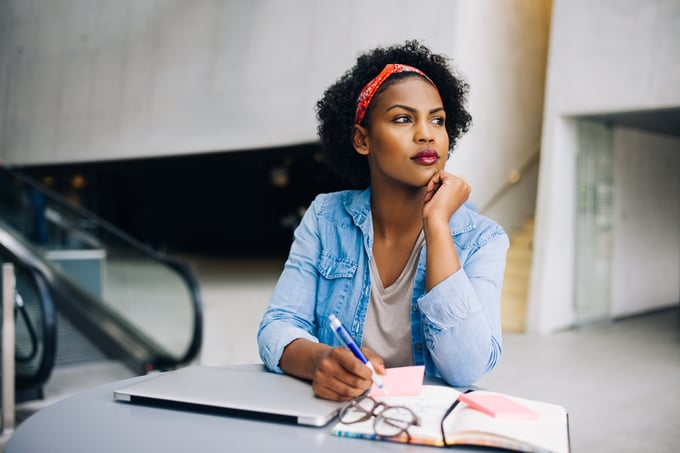 There are many roads to law school
Fear not, for the evidence will show the roads to law school are as varied as the practice of law itself.
Case in chief: Stetson University College of Law Dean Michèle Alexandre, J.D.
Dean Alexandre double majored in English and French, with a background in philosophy for good measure, before earning her Juris Doctor (J.D.) and becoming a trailblazing attorney, academic and author.
Liberal arts programs are a significant source of law school students. English majors alone accounted for about 1 in 20 applicants to ABA-approved law schools in 2015-16. Of those, 80% were admitted, according to the Law School Admission Council (LSAC).
And let's not forget other major categories such as business and management, social sciences, engineering, health professions, and natural sciences. Law school applicants earn bachelor's degrees in fields that span the alphabet from accounting to zoology, according to research from the Law School Admission Council (LSAC).
Choosing courses before law school
The American Bar Association (ABA) doesn't recommend specific undergraduate classes or majors as preparation for studying law. Rather, it encourages students to seek out engaging and challenging subjects, particularly those that nurture an aptitude for writing and research.
"Students who are successful in law school, and who become accomplished professionals, come from many walks of life and educational backgrounds," the ABA notes.
Historically, certain fields of study have been viewed as excellent preparation for J.D. programs, such as criminal justice, political science, history, and philosophy. Those four majors comprised almost one-third of law school applicants in 2015-16, the LSAC reported.
But the key factor is how well your undergraduate course of study helps develop the skills required to succeed in law school. The Association of American Law Schools identifies those skills as including: reading and writing; oral communication; research; problem-solving; and organization.
With that in mind, let's take a closer look at five of the common college majors as potential pathways to law school.
Studying political science before law school
At 18%, this was by far the most popular major for law school applicants, according to the LSAC study. Of course, a shared interest in politics and law would not be considered unusual. About 40% of the members of Congress attended law school, Bloomberg Law reported.
From relationship building and collaboration to the promotion of public service and justice, political science undergrads are exposed to many of the themes they will champion as law school students.
Studying criminal justice before law school
As with political science, it should come as no surprise this is one of the leading majors for J.D. applicants. The ABA cites exposure to the law, including familiarity with the legal system, as a core experience to prime students for law school.
Additionally, a criminal justice program can promote the development of critical attributes for future law students, such as research, and organization and management skills.
Studying psychology before law school
At the heart of the law are people. And, at the heart of psychology, is an understanding of the underlying experiences and motivations that shape and drive people's behavior.
Finely attuned listening skills are indispensable to lawyers, who must glean details from clients and others. In psychology programs, students may explore the role of active listening in guiding counseling and therapy techniques. They also build knowledge of decision-making and problem-solving strategies — foundational components of the legal profession.
Studying English before law school
Whether it's composing a convincing closing argument or crafting a compelling appellate brief, the power of the written word is central to the practice of law. The ABA pulls no punches in this regard: "Language is the most important tool of a lawyer, and lawyers must learn to express themselves clearly and concisely."
The organization urges students to refine their writing and editing skills in advance of law school. This can involve composing original, analytical, and substantive pieces that are subjected to constructive criticism.
Studying history before law school
Like English, history was the major of about 5% of law school applicants in 2015-16. Critical reading skills are fundamental to the study of history and law alike, as are the ability to conduct in-depth research and distill complex material.
Prospective law school students also benefit from taking undergraduate classes that call for the evaluation and citation of sources, said Brooke J. Bowman, a professor of law at Stetson University College of Law. Those requirements will be familiar to history majors.
Bowman also notes the importance of fostering soft skills such as leadership and teamwork. She encourages undergraduate students to consider classes that include group projects and presentations.
Don't feel limited by any particular path
It bears repeating that these five majors are some of the common Pre-Law majors and are merely a sampling of the multitude of educational backgrounds of successful law school applicants. The choice of an undergraduate field of study neither guarantees nor sounds the death knell on a hoped-for legal career.
As the ABA notes, students can focus "in areas as diverse as art, music, science and mathematics, computer science, engineering, nursing or education."
So, if you still haven't plowed all the way through "Bleak House" for your Victorian Literature class, go ahead. It might just be better preparation for that newly planned law career than you ever imagined.
Topics: Applying to Law School