As a Stetson law student, you have access to an incredible resource—the Stetson Law library. The Stetson Law Library is a great place to start legal research as you pursue your LL.M. in International Law.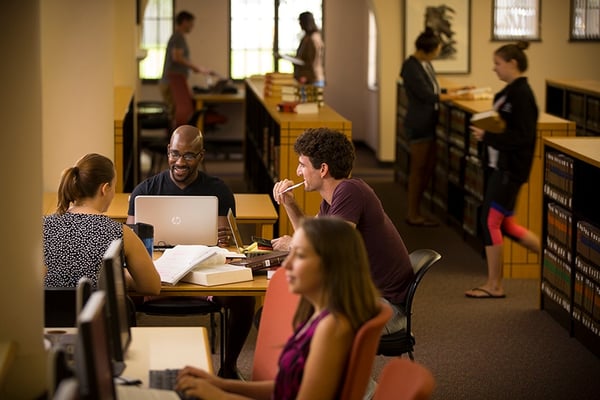 Research at your fingertips
You can search for your topic using the online catalog (the search box where it says Search Library Resources). This will search through everything that the library owns, including print and electronic resources. Most of what the library owns is available online, including the Stetson subscriptions to Lexis, Westlaw, and Bloomberg. Just visit the Databases A-Z page to access these databases directly.
Your ticket to International Law research
For international legal research, domestic databases are not the best place to start. For International Law there are many resources that are much better suited to your needs. You can find these international resources through your Stetson Law Library's online research guides.
The librarians and library staff are here to help you! The reference librarians all have J.D. degrees and we come from lots of different places. Each of us specialize in different areas of law. But we can all help you with whatever research question you have. Please ask us for help. YOU are the reason we are here!
24/7 access to the perfect study corner
Besides the materials that we have, the library is a great place to study. You have access to the library 24 hours per day, every day. If it is after hours and the library is locked, you can always get in using your student I.D. card in the swipe lock at the front door.
There are lots of tables and study areas available. You can even reserve a study room by using the online form or by just stopping by the front desk. Food is allowed in the library and the library has vending machines for drinks and snacks.
Surprise — we have puppies!
As we approach exam time (final exams and the bar exam), you'll notice that we have several stress-reducing programs, from a peanut butter and jelly bar, to coloring pages with crayons, and visits with therapy dogs. We know that you spend a lot of time with us in the library and that law school is stressful. We want to help make it easier for you!
As always, if you need help using any of the library resources, in print or online, we are here for you! You can contact a friendly librarian via email lawrefgp@law.stetson.edu, by phone (727) 562-7825, or by stopping by the library Reference Desk. We are always happy to hear from you!
Topics: International Law