If you're passionate about finding solutions to environmental crises — climate change, pollution, the preservation of endangered land and species — an environmental law track might just be the perfect fit for you.
While training for a career in environmental law can start at any point, we'll show you how you can prepare as an undergraduate. But first, let's talk about what environmental law is, why it's important, and how your career can help to uphold it.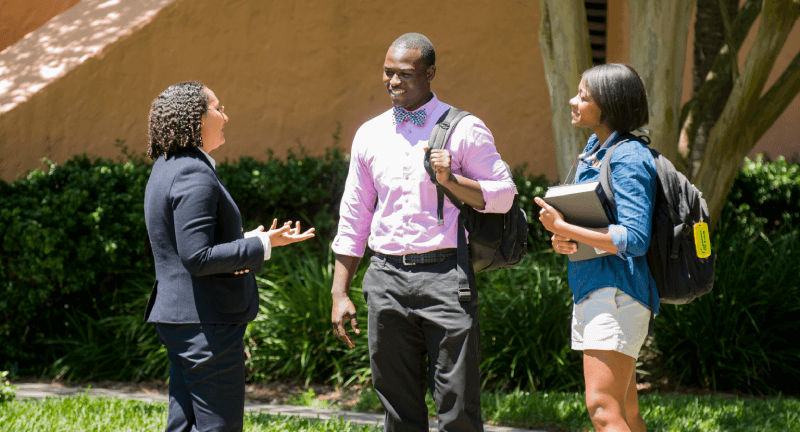 What is Environmental Law?
According to Paul Boudreaux, Professor of Law at Stetson, "Environmental law is the law concerning pretty much everything around us, including human health, the air, the oil, the water, the plants, the animals."
Environmental Law really is a blanket term for legal practice across a range of issues, including the preservation and protection of agriculture, wetlands, and species, the addressing of pollution, waste management, quality of air and water, green initiatives, climate change, sustainability strategies, and more.
As sustainability moves from the background to the forefront of our culture, your environmental law work can make a difference for your clients — even the nonhuman ones.
What is the Main Purpose of Environmental Law?
Environmental law prevents people from mistreating the environment and safeguards our natural resources, communities, and ecosystems. Without enacted environmental laws, people could freely pollute, contaminate, hunt, or delay action in the face of a disaster.
5 Key Environmental Law Pathways
Environmental Law's core functions are to conserve, manage and protect Check out a few pathways for doing just that with an environmental law concentration:
Flora and Fauna Protection
This encompasses everything from the protection of endangered species to the conservation of valuable land. As an increasing number of endangered animals fall victim to poachers, the need for new lawyers grows. Your work? Enacting the laws which prohibit such killings, and that prevent the disruption of at-risk ecosystems, such as old-growth forests or urban tree canopies.
Water Quality and Pollution
The prolonged crisis in Flint, Michigan, underscores how water quality issues are human rights issues. Many low-income families and neighborhoods are exposed to carcinogenic water and need environmental lawyers to step up and help defend their homes and communities. Environmental lawyers are also vital to water quality concerns in big oil and commercial activities, such as fracking and oceanic pollution.
Emissions, Construction, and Infrastructure
Housing and transportation directly impact the environment. Laws on emissions, construction, infrastructure, and urban planning all contribute to eliminating waste, reducing harmful habits, and building sustainability right into our lifestyles.
Mining
The laws in place to protect natural resources, like the air we breathe to the land we till, are also central to the mining industry, from operations to workers' rights.
Food Production
A lot goes into our food production, the farming, pesticides, fertilizers, seeds, and harvesting processes--to keep us alive and well. Lawyers working on food regulations and laws ensure the safety and ethics of these processes, reducing the risk for contamination.
What Does An Environmental Lawyer Do?
A range of things, according to Professor Royal Gardner, Director of the Institute of Biodiversity Law and Policy at Stetson "From government to in-house counsel to local law firms, or even for non-governmental or international organizations."
Environmental lawyers can advise and help organizations stay in compliance with environmental laws. They might write reports on existing laws, represent individuals or community members who are suing those who violate environmental laws. And environmental lawyers can work to protect the world and its inhabitants by introducing new legislation, practices, and ideas through participation in political, commercial, and educational institutions.
How Do I Become An Environmental Lawyer?
A career in environmental law starts with your connection to the environment. Your desire to step up and create change for those around you, especially ones without a voice, like flora, fauna, and wildlife, can drive your pursuits as an environmental lawyer.
Just look at 1967 graduate Dick Jacobs, who attributes his J.D. to a desire to change the world:
"The fact is that we've done such a poor job of taking care of the world that we live in," Jacobs said. "We're leaving our future generations with really a mess. I was amazed at how the young people around the United States and throughout the world are standing up to say 'hey, we have to do something about our environment,' and I knew I had to do something to help."
So he went to law school. And the rest? History—a more sustainable one, at that.
You'll need a Bachelor of Laws (LLB) or a Juris Doctor (JD) to practice environmental law.
While it's not technically a requirement to have an LLB to get into law school, and in some countries, an LLB will allow the practice of law, it helps to have an undergraduate background in law. A concentration in science, criminal justice, or even environmental studies would serve you well.
According to 2013 J.D. graduate Elise Bennett, you'll want to take more than just environmental-focused classes for a greater understanding of the environmental law track.
"Take administrative law classes!" Tilton said. "Stetson offers so many wonderful opportunities to learn about administrative law, from the basic administrative law class, to the environmental courses. And you really can't practice environmental law without understanding administrative law. [The faculty] really care about how you do — both professionally and educationally — while you're in school, and after you graduate."
Gain practical experience
Once you've done the work to get into law school, you'll hit the ground running with extensive reading, research, drafting, and immersing yourself in environmental policies.
2013 graduate Erin Tilton said that Stetson's real-world opportunities helped prepare her for a career as an environmental lawyer.
"I think the biggest thing that sets Stetson apart, as far as preparing you for a career in Environmental Law, is the practical experience. Getting out into clinics and internships and practicing drafting motions, briefs, doing the research, and actually being responsible for dissecting the issues—that was something I got at Stetson that I'm not sure I would have gotten anywhere else, and it was a huge advantage when I started practicing."
At Stetson Law, we run the International Environmental Moot Court Competition (IEMCC), a series of simulated court proceedings that provide participants with the real-world experience they'll need to be effective in the courtroom later down the line.
Other key initiatives you can take part in include the International Wildlife Law Conference, Ramsar Convention on Wetlands, Inter-American Convention for the Protection and Conservation of Sea Turtles, the Edward and Bonnie Foreman Biodiversity Lecture Series, and the ELI-Stetson Wetlands Workshop.
Read about more of our offerings and achievements in our 2020-2021 annual report.
Help Save the World. Study At Stetson.
Given that Florida is one of the most biodiverse states in the country, Stetson's location helps distinguish our Environmental Law Certificate of Concentration as one of the best in the legal field.
Stetson Law provides numerous resources and opportunities to help ensure you become the best environmental lawyer and advocate for our planet. In fact, The Institute for Biodiversity Law and Policy is the focal point of our environmental law activity.
According to Professor Gardner, "[The Institute for Biodiversity Law and Policy] coordinates our classes, our scholarly activities, and our service projects. [It] has two biodiversity fellows; these are research assistants who work closely with me and other members of the faculty on different projects. Some of the projects in the past have included working on an amicus brief for the US Supreme Court. Some of our biodiversity fellows helped designate the Corkscrew Swamp Sanctuary as a wetland of international importance in the Ramsar Convention, which is an international treaty that deals with Wetland Conservation."
Gain real-world experience with Stetson Law to make a real-world impact on our environment. We're here to support you every step of the way. Contact us for more information, or to start an application.
Topics: Applying to Law School