For most people, the idea of paying for law school is synonymous with debt. Many people are debt averse and will focus early on in their college career to get the grades and LSAT score needed to earn a scholarship. Other people are fortunate to have family support. Most people will borrow for their tuition, fees, room and board using federal student loan money. Let's talk about some ways to get ready for the law school and the financial aid process!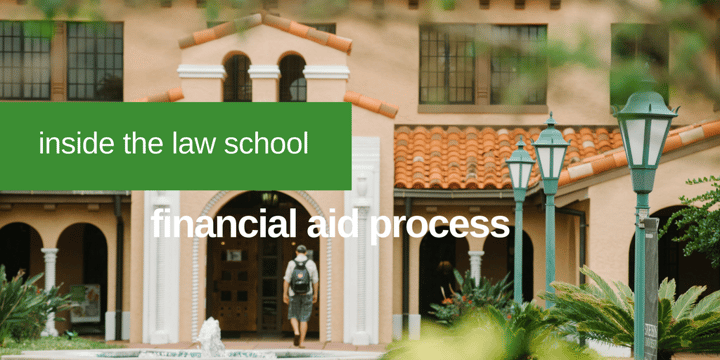 Find Free Money
We all know that if you take out a loan you have to pay it back – and that involves paying back interest, too! Why not try to earn free money? If you are still early in your college career, you have a lot of control over your GPA.
Work hard (really hard) to get the best grades possible in courses of substance that will prepare you for the rigors of law school and help you be a competitive candidate for scholarship support – not Introduction to Badminton, please! If you can, work some extra hours and save up to take a preparation course for the LSAT. A few points higher on the LSAT could result in a major Return on Investment in scholarship support!
Next, do some online research. Find scholarships out there sponsored by nonprofits or law firms. Local bar and other professional associations often sponsor scholarship competitions. Take the time to apply for scholarships. So few people do and it could be well worth the investment!
Get Your Financial House in Order
How will you pay for law school tuition, books and living expenses? Have you talked with your family about all of the costs associated with going to law school full-time versus part-time? Are they able to help you with a cell phone bill or car insurance? Or, like many students, are you on your own? Might you consider living at home to save money?
Next, think about your dream school and back-up schools. Look at their published Cost of Attendance Budgets and scholarship data (as well as scholarship retention data). If you are coming in below a school's median LSAT and GPA, you may not be well-positioned to earn a significant scholarship.
Perhaps you have a lot of debt right now from credit cards or car payments; perhaps you have bad credit and need to repair it if you don't think you can obtain a cosigner for your Graduate Plus Loan (credit-based federal loan). You may be best served by paying down or paying off your debt before embarking on a legal education and taking out law school loans.
Reach Out to the Experts for Advice
Review the plethora of information found on the Federal Student Aid, Access Group or FinAid websites. These are excellent resources and should be reviewed thoroughly. Access Group is one of my favorites because they have a strong understanding of the unique needs of law students and graduates. The financial aid folks at your law schools of choice are also important resources. Reach out to them for questions as well!
Budget
If you are not already budget-savvy, we highly recommend you take the time to start working from a budget. You will need to do that once you are in law school and when you start repaying your loans. There are great tools out there from Excel to Mint that can help you get started.
The more detailed you are and the more honest you are about your spending and saving habits, the easier it will be to make a realistic, livable budget once you decide on where you will attend law school.
Fill out the Free Application for Federal Student Aid
If you are planning to borrow student loans you must fill out the Free Application for Federal Student Aid (FAFSA). You will do this every year of law school. Unless the school requires parental information, you should not need to input that information. At the graduate level, you are considered independent for financial aid purposes.
The FAFSA is not terribly hard to complete these days. I had a young lady do it from her phone in my office recently. You can elect to use the IRS Data Retrieval Tool which saves time and paper.
This blog post attempted to cover the most important parts of the pre law school aid process. There is so much to learn about loans and interest rates and we'll cover that in another post. You can learn more now, by referencing some of the resources I linked to in this post.
Topics: Applying to Law School