Stetson Law, Florida's first law school, started in 1900, is a law school of many firsts, including the first to graduate a female attorney in Florida, first to require pro-bono as part of graduation, and the first law school in Florida to offer a Pride Scholarship Award to benefit its ever-growing LAMBDA - LGBTQIA Lambda Legal Society.
It is a mark of pride to offer such a scholarship to a program that has seen a significant growth in LGBTQIA student populations and continues to grow. The Stetson Law Pride Scholarship Award, endowed a few years ago, was an endeavor supported by members of the Stetson Law faculty, Lambda Student Society as well as LGBTQIA alumni and allies. It is now presented as an award to a graduating student.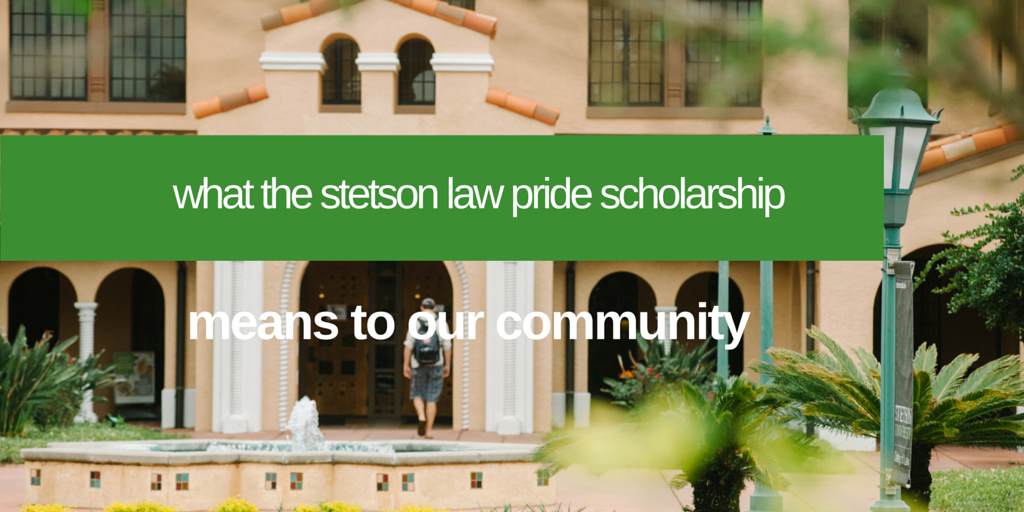 The scholarship began as an idea that quickly gained traction as a way to attract members of the LGBTQIA community who sought enrollment at a law school where being LGBTQIA was welcome and supported by scholarship.
Continue the momentum in advancing LGBTQIA rights and opportunities…with Pride
The Pride Scholarship Award allows Stetson Law to recruit to members of the LGBTQIA community who seek a law school whose campus is "safe place" and students can freely grow and participate in their legal education. Not all law schools offer such an opportunity in this scholarship, which is a testament to the advances of a law school that has adapted to meet the needs of a growing, diverse applicant pool and student body.
The entire nation watched the news last year as gay marriage and gay rights achieved milestones. While the country has significantly further to go to provide civil equality for members of the LGBTQIA community, parts of the country need greater advocates to advance LGBTQIA rights and equality. Stetson Law is part of that future.
Belonging is important for an aspiring law student who seeks a place to thrive. Consider finding a sense of belonging at the top advocacy law school in the nation 18-times and counting, Stetson Law – our community will help you help advance civil rights in communities nationwide.
Topics: Law School Insider Tips