Law school is an investment in your future. Make the most of every moment. To guide you on your journey, we've collected some tips for getting the most out of our law school.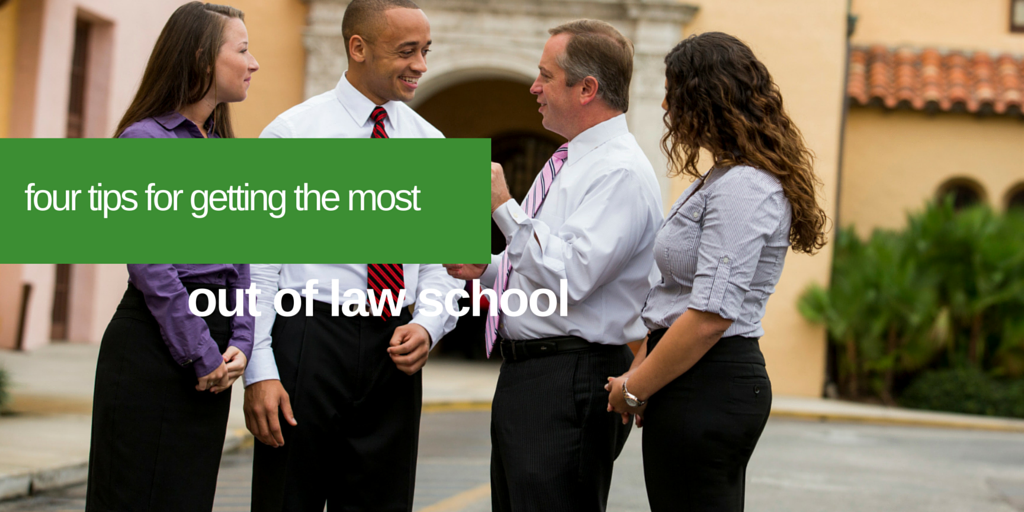 Cassandra Kline, Esq. is a May 2015 graduate of Stetson University College of Law. While at Stetson, Cassandra concentrated in Social Justice Advocacy, was the President of the Black Law Students Association, and participated in two educational clinics. She spoke to us about her experiences and how she embraced opportunities at Stetson Law, reminding new students, "Most importantly remember to always remain calm, work hard, and stay confident!"
Collaborate with Classmates
Your classmates (and future colleagues) bring an amazing wealth of knowledge and experience to the table. Take advantage of opportunities to network and partner up. At Stetson University College of Law, students don't compete with each other, they lift each other up through study groups, sharing notes, and camaraderie. Your law school experience will be incredibly enriched by getting to know your fellow students. Reach out. Make connections that you will treasure for many years after you graduate.
Volunteer in the Community
A few short years from now, your role as an attorney will be in service to the citizens of this country. It is never too early to start contributing to the welfare of the community, and as a law student you will find many opportunities to become actively involved. Stetson University College of Law is ranked among the nation's best for pro bono service.
The American Bar Association offers several resources if you wish to offer your time to a pro bono program, and the towns of Gulfport and St. Petersburg offer many worthy community organizations if you'd prefer to help in other ways. There will never be a lack of work to do if you're willing to accept only gratitude in return.
"If you know what type of law you will practice after graduation and passing the bar, my advice is to take advantage of as many internships/clinics offered and to look for outside opportunities to work or volunteer in an office practicing that type of law," says Ms. Kline.
Join Student Organizations
With more than 45 student orgs here on campus, you will be able to find something to meet your interests. Our clubs and groups range from recreational activities to service opportunities. These groups make it simple for you to find like-minded individuals that share your passions. We know that your studies will always be your highest priority, but the extracurricular pursuits our student body offers will broaden your horizons and enrich your life.
"Student groups greatly enhanced my experience at Stetson Law and can provide an additional source of support to their members," says Ms. Kline. "In addition, participating in student groups can assist students with securing valuable internships and employment opportunities as many student organizations host events throughout the year well-attended by local attorneys and judges."
Engage with Faculty
If you choose to limit your interaction with our faculty to only the classroom, you might be missing out on a priceless opportunity. The diversity of our faculty's professional legal experiences cover the gamut of specialties. Further, our law professors earned their JDs from law schools from across the country with many teaching at other universities prior to joining our prestigious team. Engage them! Learn about your future profession by asking questions that casebooks don't cover, like best hiring practices, investigative tools, or tips to operating your own practice. Explore the many roads to your future by striking up vibrant discussion with an experienced legal veteran.
Meet With Fellow Students Casually
It's perfectly all right to make friends. These connections could last you a lifetime. Embrace opportunities to meet with your fellow students in casual social settings. You may meet an excellent study partner or future business partner.
"Attending the first 1L social of the year prior to the start of the fall semester was a fantastic event because it gave me the chance to mix and mingle with my soon-to-be classmates in a relaxed setting," says Ms. Kline. "By attending this social, I was able to make friends with several members of my section which made the first week of classes seem a little less daunting."
Topics: Law School Insider Tips