Whether you need to study, research, or unwind, the Stetson Law library is here for you. Wondering why law students love it so much? Here are the top 10 reasons.
1. Our librarians know everything
Seriously, any research training or law journal recommendations you need, our librarians can help you out. They are also very fun and welcoming. So, whether you are looking for on-point literature or Candy Crush competition, our librarians do both. I cannot stress how valuable they are to your law school career.
2. Study locations
The study locations in the Stetson Law library are prime for individual, outdoor, small group, and large group study. There are individual wooden study desks with plenty of outlets.There's a shelf for your phone, to cut out any distractions, and put that stack of books. If this study scene is not for you, there are tables outside of the library.
At these outdoor tables, you can study while enjoying the calming sound of the fountains and say hello to friends as they walk by. Small and large group study rooms all have a whiteboard for brainstorming, collaborating, and creating. They also have windows that provide plenty of natural light. It truly is the ideal place to exchange ideas and practice opening statements.
3. Printers and IT
You're going to need a printer at some point. That point may be in the morning, when your printer at home is not responding, 30 minutes before your first law school final. Luckily, you can send documents to the Stetson Library printers from anywhere, at any time, and they will be ready when you get there.
Also, your computer may crash in the middle of first semester. No, I am not telling personal stories. *clears throat*. Actually, I owe my first semester 1L success to Stetson's printer technology and the IT department. Mid-semester my computer decided to sleep for a few days. I took it to IT and have not had anymore problems. Whether it's minor or major, IT comes in clutch.
4. Coffee and vending machines
The vending machines have snacks and candies. The coffee machine will brew fresh Starbucks coffee right before your eyes. Where will technology go next? It is hard to get excited about vending machines, but you have never seen Stetson's selection of deliciousness.
5. The third floor
I had to mention my favorite floor. This floor is for serious, hard-core study time. It is incredibly quiet and has the energy of a scholarly temple. In other words, it's perfect. Finals week you will thank yourself for remembering this. Also, you will thank yourself 3L year when you need moments of silent contemplation.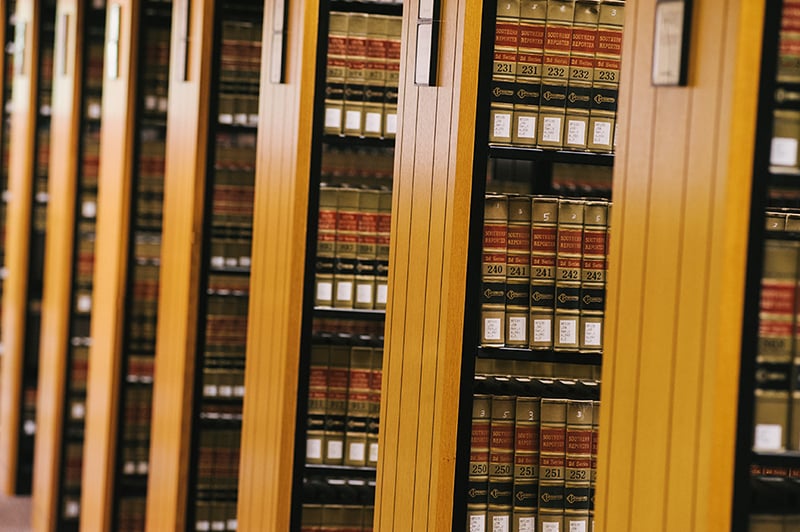 6. You can always go there.
The library is open 24 hours a day. Morning bird? No problem. Night owl? No problem.Both? No problem. Go to the library whenever. It's always there for you.
7. The art collection
The library has a beautiful collection of art and relics that will energize and inspire you. As you walk to your favorite study spot you will always find a work of art that will stop you every time you pass it. There are also historic relics, a reminder of times passed. These relics are historical items of the school which have been preserved. Stetson Law was originally home to a hotel resort in the 1920s. Later, it was used as a military school. Then it was converted in 1954 into the home of Florida's oldest law school.
Many of the beautiful fountains and architecture are still in place. Art is everywhere and the campus is so amazing and inspiring. The energy of the legal minds that have come before you can be felt all around. You will feel that you are part of a tightly woven legacy that stretches across the globe.
8. Food, jokes, and sometimes even dogs
So, you get out of class at noon and your Crim Law group wants to meet right after. You meet up with them in front of the fountain and suggest getting lunch at J.D.'s Cafe. Their quick answer 'no' displeases you. The meeting begins and then ends, but your hunger does not. Then you remember the tray of delicious smelling tacos you saw heading into the library during the group's review of habius corpus. Your natural deductive-reasoning powers tell you only one thing: there is food in the library. So, here's what happens. The organizations on campus have meetings and sometimes they have extra food, so it is our culture on campus to bring the extras over to the library for everyone to enjoy. Also, there was that day where the Chick-fil-A cows stopped by and gave us sandwiches.
The library welcomes all food because our librarians recognize the importance of feeding your brain, even if it is with late night pizza. Speaking of which, you can get anything from local restaurants to Uber eats delivered to the library. Also, when you walk into the library, you will be greeted with a joke. To be honest, it's adad joke but it will bring a smile to your face.
Speaking of things that can bring a smile to your face, sometimes the library has therapy dogs! Yes, I said it, dogs. Dogs relieve stress and are generally adorable. In other words, the library takes care of you.
9. There are puzzles and movies
Maybe you are a cat lady/old-at-heart 20-something like me and you love puzzles. If so, this perk of the library will be number one on your list. The library always has a jigsaw puzzle going for anyone needing a study break. I put puzzles and movies in ninth place because research and legal scholarship should be the first thing on everyone's mind. However, sometimes you can have it both ways.
Situations in movies often involve legal issues and the library has a wide selection of movies. Movies from the library helped me so much in Criminal Law and Evidence. In fact, all the movies in the library can help you with classes. Bring your DVD player and check the library before Amazon; your money can go towards other things.
10. You'll meet your friends there
You want to go where everybody knows your name, and that place is the library. Maybe you meet every morning at 8 a.m. with your study group, maybe you all meet at 8 p.m., or maybe you are more of a lone wolf. Either way, you will see someone you know in the library and it will be a great break from studying.
Also, it will be a great study tool as well. You will never have to leave the library to seek out who knows the answer or someone who is willing to argue their point. That's really what it's all about.

Originally from St. Augustine, Florida, Molly Kaelin is a Double Hatter in her 2L year at Stetson. She received her bachelor's degree from Stetson Law in 2015. She plans to practice Patent and Intellectual Property Law upon graduation. In her spare time, she likes to play tennis and cuddle with her cat, Annie.
Topics: Law School Insider Tips