Which of the issues facing society are important to you and how can you help promote the change that you would like to see? Some of the most important roles of lawyers are to speak on behalf of those who are unable to speak for themselves and to serve as agents of change. Whether it is a recently disabled employee who suddenly loses his or her job, or a mother who is suffering the brunt of domestic violence and the threat of homelessness as a result, lawyers have the unique opportunity to serve as stewards who provide everyday people with equal access to the laws that significantly impact whom and what they hold most dear.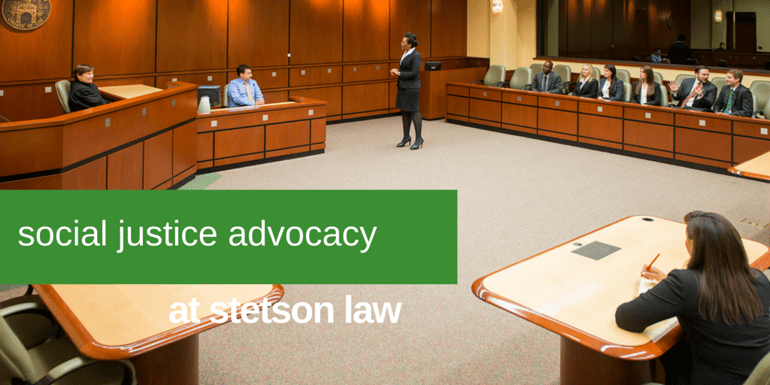 If you are interested in or are simply intrigued by the idea of using your legal career to serve the cause of social justice, know that there are many issues at the forefront, as evidenced by constant stream of headlines that you see in the news or based on your own experiences as well as those around you. For the many of these issues, there are talented, trained lawyers advocating on behalf of those impacted.
Social Justice Advocacy Certificate of Concentration
Stetson Law's Social Justice Advocacy Certificate of Concentration for J.D. students provides a vehicle for students to develop their legal training to deal directly with these significant social justice issues, whether it is through legal practice in the public or private sectors, leading or advising nonprofit organizations, or engaging in public/government policymaking and community advocacy.
"There is always going to be work to do in terms of social justice advocacy, as it is the use of legal training to promote equal justice and opportunity in our society," says Professor Judith Scully, Co-Director of the Social Justice Advocacy Concentration along with Professor Robert Bickel. "Until we have a perfect society, which I of course don't expect to have anytime soon, we need to constantly hold systems accountable in terms of respect for human rights."
The Center for Excellence in Advocacy
Consistent with Stetson's long-held mission and reputation for creating well-regarded advocates, the Social Justice Advocacy Concentration is housed in our nationally-recognized Center for Excellence in Advocacy. Through an array of specialized civil and criminal law courses, pro bono service opportunities, clinics and externships, advanced legal research and writing, multiple student and community organizations and one-on-one faculty mentoring, the concentration provides students with opportunities to gain familiarity and hands-on experience with historic and contemporary social justice initiatives and issues.
"This concentration is designed to prepare students who are committed to using their legal skills to help the underserved, the disenfranchised and those who might not be able to otherwise afford a lawyer to champion their cause," says Stetson Law Dean Christopher Pietruszkiewicz. "Students have eagerly lined up to participate and it is our hope that each of our students carries with them a life-long commitment to social justice and find it as a means to define what it really means to be a lawyer ─ to be of service to others with honor and integrity."
Learn More About Social Justice Advocacy
Here is a small sample of resources that can give you more insight about social justice advocacy and how you can make a difference now as well as in the future as a lawyer:
What is Social Justice Advocacy?
Stetson Law's Social Justice Advocacy Certificate of Concentration
The United States Department of Justice – Civil Rights Division
Florida Commission on Human Relations
Topics: Law School Insider Tips