At some point in our professional life, we will likely consider a career change. Sometimes it is a desire to move up, move out, or move onto something new, different and exciting. Whatever your reason for a career change, consider earning a master's degree in a high-demand field, such as health law.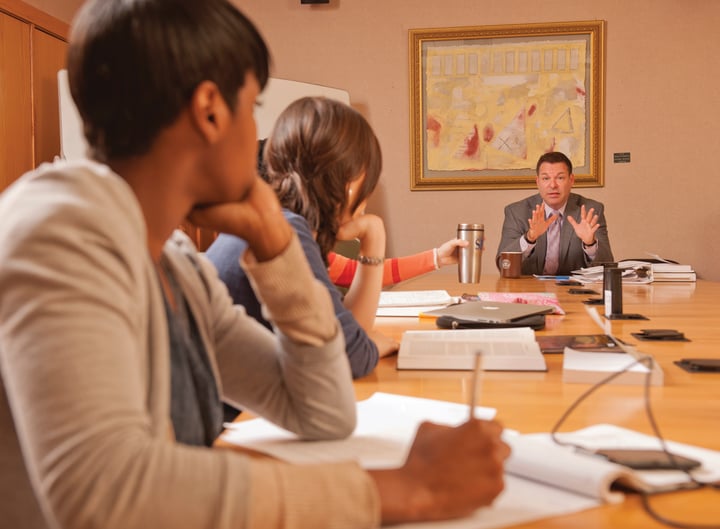 Rising demand in healthcare and health law
The Bureau of Labor Statistics highlights healthcare as one of the fields with increasing demand because younger professionals are needed to replace Baby Boomers in the workforce (couple that with population growth, rapidly changing technology, and increasingly more complex laws and regulation). The demand is real and it is important for society to have a skilled workforce to meet this demand.
Health law itself encompasses diverse fields such as tax, insurance, compliance, access, biomedical ethics, labor law, malpractice, HIPAA, and more. It is important to understand the breadth of options in health law, as described in this Harvard Health Law Career Guide. Explore areas where you find a passion for the subject and assess what degree and skills you need to obtain in order to move into the field.
For individuals who have an interest in understanding regulatory compliance law as it pertains to healthcare practice, administration, and clinical research, healthcare compliance is a field worth pursuing. Specifically, in healthcare compliance, practitioners—both lawyers and non-lawyers—set up protocols and systems to ensure that providers comply with federal and state regulations. They may work to mitigate risk, serve as an analyst, or even work as a vice president or chief ethics and compliance officer. In the blog, "Fastest Growing Healthcare Compliance Careers for 2019" we highlight a number of job roles that fall under this category from Contract Manager to Compliance Investigations Officer.
Health law graduate programs vary. One can pursue the J.D., MBA, MPH or MPA with a concentration in Healthcare, Health Law or Health Administration, or pursue a Master of Jurisprudence (M.J.) in Healthcare Compliance. These degrees in fields related to health law prepare people for a career change in a number of ways. It is important to decide if you want a broad degree with a small focus or concentration on health law (J.D., MBA, MPH, MPA) or a program that is 100% dedicated to your field, such as the M.J. Explore the curriculum of programs you are considering to make sure the program meets your needs.
How Stetson sets you up for success in healthcare law
In Stetson University College of Law's online M.J. program, students learn to assess and manage risk, analyze and solve complex compliance challenges taken from real-life cases, and effectively communicate legal issues. They will learn about Medicare and Medicaid fraud, payment systems, HITECH and HIPAA violation, Data Integrity, and more. This is a program that is based on both theory and real-world examples that will help students on day one of their new jobs. Faculty who teach in the M.J. are full-time law professors with a background in related fields and are supplemented by working professionals in healthcare compliance.
Typically, lower-level positions require at least a bachelor's degree and some experience. Most senior positions will require a master's degree or a law degree, as well as professional experience. This online master's degree in healthcare compliance is 30 credit hours over 2-3 years and allows students to continue working while going to school part-time. Students are exposed to other professionals from all over the country with whom they can network and share ideas. Students with industry experience may even seek a GRE waiver.
Employers must hire and develop talent who can take on the challenges these positions demand. A program such as Stetson's M.J. will help hone necessary skills like writing, research, data analysis and problem-solving. If you are seeking a practical program in health law that will prepare you for a career change, consider applying to Stetson's online master's in healthcare compliance.