By Jessica Gill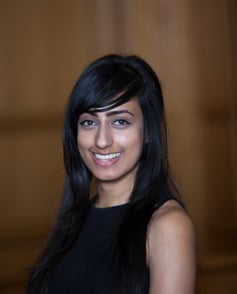 One of the most invaluable experiences I will take away from my exchange year in America is the opportunity I've had to intern with Judge Day. Not only is Judge Day a prominent, reputable and highly experienced civil court judge, but his naturally guiding nature has allowed me to be fully emerged in the full court intern experience.
He has been able to offer me a lot of insight and advice relating particularly to the pathway for a successful career in law. Throughout my internship, I have had numerous opportunities to sit in on trials and hearings ranging from personal injury to mortgage foreclosure cases. This has further developed my understanding of courtroom procedure and the realities of what it is like to practice as an attorney in America.
The benefits of being Judge Day's intern has allowed me to see the law not just from the attorneys, jurors or client's perspectives, but from behind the bench. This unique insight has clarified my understanding of the judicial process and I have had the invaluable insight from Judge Day regarding what makes a good and bad attorney in America.
I have also had the chance to experience sitting in on hearings within the Judge's chambers. This has shown me that courtroom formalities continue within chambers, with the added benefit is being able to receive direct feedback from the Judge about a case, and the opportunity to ask direct questions about their perspective on an upcoming trial.
As part of the intern experience I have been assigned multiple research and writing tasks. I have had the chance to read actual attorney briefs for cases Judge Day has tried, and then I've been asked to write memorandum's recommending to Judge Day the reasons for why a certain case should be settled a particular way.
This opportunity has exposed me to working with other staff attorney, which has been most helpful in improving my US research and writing skills. It has also been greatly effective in helping me to develop a professional style.
These assignments led to me presenting to Judge Day and other civil court judges the reasons for why I'm recommending the order or trial court judgement to be overturned or affirmed. This has improved my ability to advocate effectively in front of judges and discuss and debate issues further. It has shown me that the law is not always as black and white as it appears, and judges have ultimate discretion over case decisions highlighting the importance of their role in mitigating certain contentious areas of the law.
Overall I believe this judicial internship has reaffirmed that law is the career pathway I wish to take. It has clearly exposed me to both the advantages and stresses of pursuing such a career, but nonetheless made me more confident in my abilities to succeed as a barrister. Although courtroom advocacy is slightly different in America to England, the skills required to be an effective advocate are still the same. Thus, from my direct observations and having spoken to various attorneys throughout their trials as well judges, I believe the level of experience and knowledge I have gained will allow me to successfully implement it into my future career decisions and success.
Topics: Law School Insider Tips