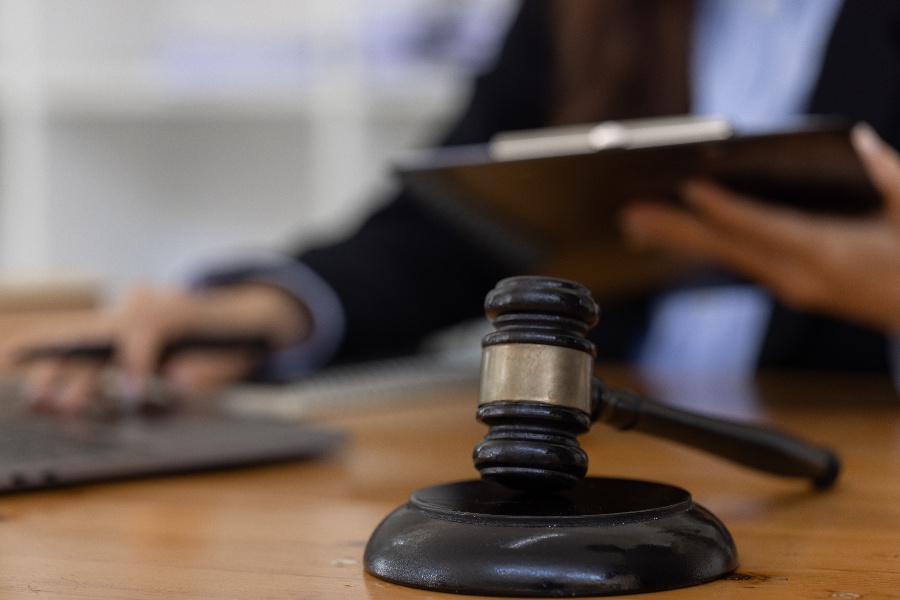 Imagine being a newly minted law school graduate, just a few months out of school, when suddenly you're called upon to play a key role in a case involving a death row inmate's attempt to overturn a lost appeal.
That was Stetson University Professor of Law Louis J. Virelli's experience when he worked for the Hon. Franklin S. Van Antwerpen on the U.S. District Court for the Eastern District of Pennsylvania from 2000 to 2001, mere months after graduating from law school.
How did Virelli end up in the midst of a literal life or death decision? Through a judicial clerkship.
What are judicial clerkships?
Judicial clerkships are generally one- to two-year appointed full-time salaried positions in which recent law school graduates work closely with judges conducting research, writing memoranda, drafting decisions, and weighing the merits of ongoing cases. The responsibilities of a law clerk include:
Working side by side with a judge
Interacting with lawyers, witnesses, and court personnel
Observing trials and oral arguments
Helping to draft judicial opinions
Providing research and input that makes its way into final opinions
For new lawyers, clerkships offer an invaluable opportunity to experience the law in action and hone your research and writing skills while simultaneously building relationships and developing contacts with judges and lawyers who can provide you with opportunities for professional advancement and critical career advice.
There are clerkship opportunities at every level of the judicial system, from local state courts to the U.S. Circuit Court of Appeals and all the way through to the U.S. Supreme Court. Because of the opportunities they afford for learning and networking, clerkships are often prestigious and relatively hard to get — especially at the federal level, where judges may receive hundreds or thousands of applications for a particular spot.
In fact, many U.S. Supreme Court Justices worked as clerks for previous Justices. John Roberts clerked for William Rehnquist, Elena Kagan clerked for Thurgood Marshall, and Ketanji Brown Jackson clerked for Stephen Breyer. In 2017 Neil Gorsuch became the first ever U.S. Supreme Court Justice to serve alongside a Justice for whom he had previously clerked: Gorsuch clerked for Anthony Kennedy from 1993 to 1994 alongside Brett Kavanaugh, who ended up filling Kennedy's seat when he stepped down a year later.
Professor Virelli's experience
Virelli knew when he graduated that he eventually wanted to become a law professor. He pursued a clerkship to develop his research and writing skills and build his resume before entering academia.
"The experience, practice, and exposure pays off in spades throughout the course of your career," Virelli said. "I was probably a better writer by the end of my second clerkship than I ever will be again."
After graduation, Virelli clerked for judges on the U.S. District Court for the Eastern District of Pennsylvania and the U.S. Court of Appeals for the Third Circuit.
Virelli noted that clerkships provide recent law school graduates with opportunities to play a part in much bigger cases and decisions than they could ever be involved in otherwise. "It's an incredibly empowering position. It's the kind of job that is far more important than the experience level of the people taking that job merits."
It was during his clerkship at the U.S. District Court for the Eastern District of Pennsylvania that he encountered the capital habeas case mentioned earlier. A prisoner on death row was seeking to overturn his conviction after he had lost on appeal.
"As a clerk, I'd been out of law school at this point for a few months, yet I am at least the initial set of eyes on this issue," said Virelli. "I spent hours talking to the judge about it and several months working on just this petition. It's a very complicated area of the law procedurally because we don't generally overturn the full litigation process after the fact unless there's a very good reason, so you have to have lots of procedural checks before you can even make a decision."
The court eventually granted the petition, issuing a decision that was over 180 pages long that Virelli was instrumental in drafting. The inmate wasn't released from prison, but he was removed from death row.
"Most lawyers go their whole career without contributing to that kind of question at all," Virelli said, "let alone having a one-on-one audience with the lone decision maker in a case that's that important."
"Clerking is really one of very few [jobs you can get right out of law school] that would ever put that kind of responsibility on, or ask that of, a brand new lawyer. I'll never forget that experience."
The experience judges look for in law clerks
Different judges look for different things in potential clerks' applications, but generally speaking, exceptional research and writing skills are a common prerequisite. That's why journal service — i.e. working for a law review — is one of the most valuable sources of experience a law student can highlight when applying.
Stetson Law also provides students with experiential education opportunities that closely duplicate some of the sorts of experiences graduates get as a clerk. Stetson is one of the few law schools in the country that guarantees that every student can participate in a clinic or externship during their J.D. program. The College of Law offers over 300 opportunities annually, ranging from clinics in veterans advocacy, child advocacy, and immigration law to externships in intellectual property law, military justice, and municipal and administrative law.
Clinics and externships offer opportunities that are much like clerkships, except that they're unpaid positions done for academic credit while you're still a student, rather than a full-time paid position after graduation.
Externships place Stetson Law students in off-campus, legal environments such as state and federal courts, governmental agencies, and local corporations. Students are able to observe and participate in the activities of their host organizations, performing duties such as reviewing documents, conducting research, and writing memoranda of law.
In clinics, students get the chance to actually practice law under the supervision of a licensed attorney. That means students get to speak in open court, arguing motions and advocating during criminal hearings and proceedings, including jury trials. Off-campus clinic placements include legal aid organizations, local governments, the Office of the Public Defender, and the Office of the State Attorney.
At Stetson University College of Law, you'll get firsthand experience with the law that will help you stand out from the crowd. Stetson is ranked #1 in the nation for trial advocacy and #3 for legal writing by U.S. News and World Report. You'll work closely in the classroom with our dedicated faculty and in clinics and externships with outside legal professionals. Get the experience you need to pursue the legal career you want. The Fall 2024 application cycle starts on Oct. 1, 2023. See our J.D. Admissions page for details!
For a complete guide to finding and applying for clerkship positions that will be right for you, see Stetson Law's Judicial Clerkship Toolkit.
Learn more about clerkships and career development on the Real Cases podcast
To hear more about Professor Virelli's experiences as a clerk, and to learn what advice he gives students who are looking to advance their legal careers, check out the latest episode of Real Cases, a legal podcast from Stetson University College of Law.