For some, the process of researching options for law school can be overwhelming, especially with the array of information available online and in your inbox.
Law school recruitment fairs are excellent opportunities to engage with schools face-to-face and ask the questions most important to you. These events also serve as economical ways to help narrow down your choices before you begin the potentially more expensive process of visiting individual campuses.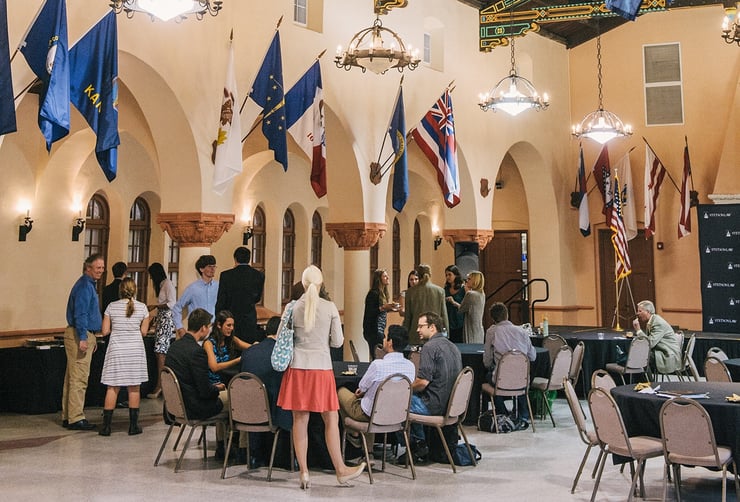 If you plan to attend an event in your area, which we strongly encourage you do, here are a few insights and tips to help make the most of your experience.
Find Events Near You
Law school recruitment fairs include law, graduate/professional and career fairs. The Law School Admission Council also hosts its LSAC Law School Forums in a variety of cities throughout the country with participation from the majority of ABA-accredited law schools.
You can learn more about events near you by visiting a law school's admissions website, as they often promote the events they plan to attend. For example, visit Stetson Law's Admissions Events page to learn about the events we attend around the country.
Do a Little Research
While it is not required, plan to research the law schools you are most interested in prior to attending the recruitment fair. You will likely not have a lot of time when you visit each table, so show that you already know the basics (school's location, LSAT/GPA median, etc.) by focusing on your more high-level questions (program and scholarship offerings, career services, application advice, etc.).
Keep an Open Mind
As you keep an eye out for the schools at the top of your list, it is just as important to engage with a few of the schools you might not have in mind. So be curious and stop by those tables as well. In addition to learning about new opportunities, you may find that a school is potentially a better fit for you and can benefit you in ways you have yet to explore.
To Bring or Not to Bring? Resumes and Business Cards
The good news is you are not required to bring anything with you. However, you may want to consider bringing a few copies of your resume and/or business cards in case a representative expresses interest. While most representatives will not ask for these documents, especially during busy events like LSAC Forums, it does not hurt to be prepared.
Bring a Bag to Keep Your Hands Free
You will likely need something to hold all the materials and goodies you collect during the fair. A light shoulder or arm bag will keep your hands free as you engage with each school and flip through the materials they give you.
Have Pre-Printed Labels for Sign-Up Sheets
Since most schools have sign-up sheets or cards at their tables, consider bringing one or two sheets of pre-printed address labels (like the ones you stick on mailing envelopes). Include your name, contact information, undergraduate school, graduation year and, if you already have one, your LSAC number. You will save time by not filling out a sign-up sheet/card at each table you visit, and this can help the schools since handwriting is often hard to read.
Dress to Impress
Since you are applying for professional school, plan to wear business casual. This includes professional dresses or blouses/shirts paired with bottoms and shoes that you can comfortably wear throughout the day. Blazers, high heels and ties are optional. Of course, if you are rushing to/from work or a student-athlete commitment, etc., we will certainly understand and you should plan to attend anyway.
Follow Up!
Within a couple days after the event, you should follow up with the schools that continue to interest you. This will allow you to remain engaged with them as you consider whether their institution is right for you and for them to get to know you as an applicant.
Where you end up going to law school is an important decision. If you take advantage of them, recruitment fairs can help you find a school that is the right fit for you based on your needs. Best wishes with your law school research and we hope to see you at a recruitment fair soon.
Helpful Resources:
Stetson Law Admissions Events
LSAC Law School Forums
Law School Recruitment Events - by Region (LSAC) - please note that this is not a comprehensive list
LSAC Official Guide to ABA-Approved Law Schools
Topics: Law School Prep