If you're required or encouraged to submit a resume with your law school application, celebrate! It gives you a chance to really market yourself to the school.
But what do you do when the school doesn't provide any written guidelines about resume submission? Some people poke around online and take advice from supposed experts (i.e., other recently accepted law applicants). Some ask their career service office team or their pre-law advisors. Others even ask attorneys. Are you applying to Stetson University College of Law? Don't rely on what you read elsewhere. We have the facts.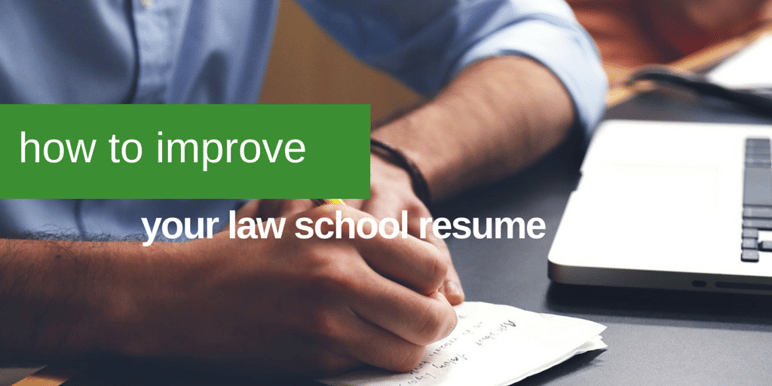 How is a law school resume different from a career resume?
If you're applying to law school with some professional experience, you may wonder just how different your law school application should be from a traditional job application.
There are two main differences:
Your law school resume should emphasize your academic achievements.

Your law school resume should align with your personal statement.

The specific sections on your law school resume may also be more detailed and in a different order from your career resume. As you'll read below, we recommend listing your education section more prominently on your law school resume, which you may usually list lower on the page of a professional resume.
Your law school resume should also be specific to law school, and not just list general experience. As Peg Cheng, author and founder of Prelaw Guru, says, "You need a resume for applying to law school. That said, turning in a generic work resume with your law school application will do nothing to improve your chances for admission. But show admissions officers a well-written, concise and engaging resume, and they will not only be impressed, they will remember you. And that's the name of the application game: being remembered."
What to include in your law school resume
Before you review our suggested list of what you should include in your law school resume, be sure to check the application instructions. At Stetson Law, submitting a resume with your application is optional. However, we strongly recommend submitting your resume along with your personal statement and application.
The following is a list of the sections you should include with your resume. Some may be optional, depending on what your experience involves, so use it as a guideline, not a strict template.
Contact Information
Like any resume, you should first list your contact information. This includes:
Your full name

Phone number

Email Address

LinkedIn profile (optional)

Home Address (optional)
We highly recommend including your LinkedIn profile URL, because it allows admissions officers to learn more about you. However, make sure you clean up your social profiles, including LinkedIn, before you apply.
Education
This is one of the most important sections of your resume for your law school application. As opposed to a regular career resume, you'll want to provide some detail in this section, including:
Name and location of university attended

Graduation Date

Type of degree received

GPA

Coursework

Achievements, awards and honors

Thesis title if applicable
List your education in reverse chronological order, starting with your most recent degree, certification, or otherwise. If you have a master's degree or any postgraduate work, you would start with that first. And, unless your high school education is particularly relevant or impressive, don't include that.
Providing details on coursework allows you to explain some of your areas of expertise and highlight any skills gained. Reviewing the American Bar Association's core skills, values, knowledge and experience, and seeing how your educational experience aligns with any of those areas can be a good place to start, as far as looking for coursework to highlight on your law school resume.
In addition, list achievements, awards, and any other honors. Were you on the Dean's List? Did you win an essay contest? Anything that distinguishes your academic or extracurricular record should be highlighted on your resume.
Professional Experience
This section should include your job or career experience, and also any internship, volunteer, or community work you have done that you'd like to highlight. If it is relevant to what you bring to the table for law school, then you should include it here. Don't, however, make it a laundry list of everything you've done in your life. Instead, include the following:
Your most relevant experience listed in chronological order

The job title, company name and dates you worked there

4-6 bullet points for each position describing your relevant skills, experiences and achievements
When writing the bullet points on your resume, try to include action verbs that focus on what you actually accomplished and learned. Quantify your accomplishments and skills with percentages and numbers. Being specific in your bullet points will help you convey your
Skills
While you should have listed your skills along with your experience in the professional section of your resume, any soft or hard skills you want to showcase, definitely belong here. Again, consider what would be useful or relevant to law school before including a laundry list of skills on your resume.
Whether you have extensive professional experience or not, you'll want to emphasize your soft skills so you can show that you have what it takes to succeed in law school. Some law school-relevant soft skills include negotiation, collaboration, problem solving, conflict resolution, written and oral communication, mediation, critical thinking, and adaptability.
If you do not have a lot of skills to highlight in this area, or if you have lengthier education and professional sections, you can potentially incorporate your skills into those sections.
Community and Volunteer Work
Have you volunteered with a specific organization? Many people go to law school to advocate on behalf of others, so showing that you care enough about your cause to volunteer can help you stand out to the admissions team.
If you have done enough community and volunteer work to necessitate a separate section (beyond your professional experience section), then you can list one. This section of your resume is the perfect spot to demonstrate what you've done toward the cause(s) you've written about in the personal statement part of your application. Include a brief description of the work you did with that organization as well as the dates and locations of your experience.
Other Potential Sections
Depending on your experience, there are a few other sections you may want to consider including on your resume:
Awards and honors
You can list your awards and honors in your education section if they are all academically related. If they are not, however, you can have a dedicated section to awards and honors in your resume.
Affiliations and/or extracurricular activities
Include your affiliations, professional and academic, either in your education section or as a separate section if you have many. Also, consider — is it important for us to know that you were a member?
You may also want to include your membership in certain student organizations, such as pre-law society or student government. Extracurricular activities can be a separate section from affiliations, but if most of your affiliations are school-related, it might make more sense to represent this as a combined section.
Publications
Have you published any books, papers, or articles? List them in a separate section if so.
How to Format Your Law School Resume
It's important to consistently format the content on your resume. If you have periods at the end of your bullet points, be sure to use them without. Or, if you use one font for your headings and another for your body text, make sure to apply that throughout your document.
Indeed recommends that you use headings for each section, and limit your font choices to something easy to read, like Calibri or Helvetica in 10- or 12-point font. Also, make sure you have standard one-inch margins at the top, bottom and sides of the page. Include details for each section with bullet points, and list the dates and locations for each activity. Your contact information should be at the very top in bold and/or larger font.
Finally, you'll want your resume to be 1-2 pages long. If you want to submit something longer, then you should consider whether or not everything is absolutely necessary for the admissions team to know, and reread the application requirements. At Stetson Law, we request that students provide a comprehensive work history on their resume to align with the employment question on the Florida Bar application, the most common state in which Stetson graduates practice. So, your resume may be longer than two pages if you have a lot of work experience.
6 Key Tips For Your Law School Resume
Keep these tips in mind to create a strong, compelling resume – and to avoid common pitfalls.
1. Focus on relevancy, but tell your story
When creating your resume, focus on your relevant professional, academic and personal experiences, and see how you can make your experience part of your story. While working as a barista to support yourself through college may not seem directly related to your prospects as a law student, it shows hard work and initiative and can be made relevant to your application.
2. Keep it simple
Provide simple, easy-to-read explanations of your job and educational experiences on your resume. Use plain English and either avoid jargon and any other special acronyms or terminology, or define if necessary.
This simplicity extends to your format — your content should be what stands out, not colorful or unique formatting.
3. Don't forget to proofread
Not proofreading your resume before you submit it is a big mistake. Copy edit your resume to ensure your spelling and grammar is correct, and ask someone else (or multiple people) to review it before applying.
4. Be Specific
Being specific in your professional accomplishments can help you stand out and showcase yourself effectively, according to LSAT prep course Magoosh. There is a big difference between "helped raise funds for charity initiatives" and "helped raise $25,000 for the Habitat For Humanity fundraiser via online fundraising event promotion." Every bullet point on your resume should be crafted to focus on concrete tasks and highlight your personal role in the position at hand.
5. Stay Honest
Don't make unsubstantiated claims or exaggerations — these are red flags for admissions officers. Listing skills without any evidence to support those skills is a big mistake. In addition, the law school you're applying to will receive your transcripts, so they'll know if you lie about your academic performance — it's not worth it to round up on your GPA.
6. Don't be too modest
Underselling yourself is also a mistake when it comes to your resume. Even though it's hard to write about yourself, make sure you describe your best qualities and accomplishments in detail.
The Law School Resume — Just One Part of Your Application
Your law school application includes multiple components, from the application itself to the personal statement. We're here to provide you with helpful tidbits of information to ensure you feel confident in the application process. Explore our admissions blog and find more useful tips for future and current law school students.
Topics: Applying to Law School