As the newest concentration offered at Stetson Law, the Business Law Concentration is a perfect fit for aspiring lawyers who want to gain business acumen.
We spoke with Professor of Law and Concentration Director Theresa Radwan to get an inside look at this concentration's requirements, differentiators, and more.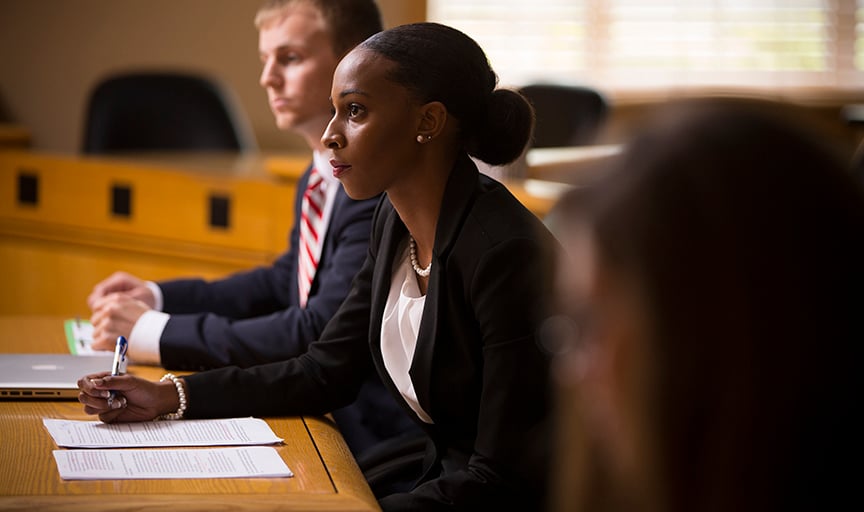 Business Law Concentration Requirements
Coursework
"One of the real benefits of the concentration is that it allows students to think about what types of courses they want to put together in a package that is business law," Professor Radwan said. "There is a tremendous amount of flexibility. We have a few courses that are required courses, so everyone takes Business Entities, Tax, and Uniform Commercial Code, but then there's an extensive list of electives so that students can decide even within the broad category of business law where they most want to focus their attention. So it's going to be a little bit of everything because business law includes a lot of areas, and guidance from the mentors will help them decide where their particular path or their niche in business law might be."
The courses available to students balance the "common core" that all students have to take with a flexible range of courses that allow students to go beyond that to pursue their path of interest.
"As much as we do focus them in, we were very intentional in making sure, and I think this is true of all the concentrations, that there's enough room left in the 88 credits that they take to graduate that they're still going to be able to take some bar-tested courses and some other courses that just sound interesting, even though it has nothing to do with their concentration. We did try to make sure there's balance. We don't want students to spend all their time on one area to the exclusion of getting to think about other things. Because, at the end of the day, lawyers are thinkers, and they need to be self-directed learners, and we want to make sure they have lots of opportunities to do that in law school."
In addition to the existing coursework, new courses are under consideration to be developed based on industry demand and student interests.
"We have a Cyber Law course, for example, which is a natural fit in business law, but we have an alumnus who wants to talk about what else we can offer in cybersecurity, and that's something that would be of interest to our students, so we are continuing to look at what types of courses we can add to create even more specialized options," said Professor Radwan.
Mentorship
The mentorship component of the Business Law concentration is the biggest benefit students get from the program, according to Professor Radwan.
"Students could take all of these courses without being in the concentration. To me, the biggest benefit a student gets is they have a faculty member assigned to them as soon as they become a part of the concentration, and that faculty member's primary job is to mentor students throughout the program, and that mentorship changes.
"Over time, we'll change from a curricular mentoring to a mentoring about how to start pursuing the career they want to pursue, what the first job might look like, which is often very different than what the third job out of law school might look like and might be their ultimate goal. The mentors help with that, and sometimes we defer to our colleagues if needed."
Pro bono requirement
All J.D. students at Stetson Law are required to complete pro bono hours, but Business Law students are required to do some of them in the concentration. In this area, the business law faculty are always seeking more opportunities, according to Professor Radwan.
"Pro bono is not necessarily something you think of in the corporate context — you don't normally represent corporations pro bono — so, what types of opportunities can we give to students to complete their pro bono hours in a business-related field? Some of them work with a tax preparation placement, while some will help with the bankruptcy court because that has a lot of business aspects but also, obviously, you're representing debtors in bankruptcy, and that is a key component of pro bono work."
Current pro bono opportunities include:
Volunteer Income Tax Assistance program
Bankruptcy project with Community Law Program/Bay Area Legal Services
Florida Business Law Section Law School Pro Bono Challenge
Other qualified pro bono projects can be completed if approved by your advisor.
Clinics & externships
Gaining practical experience is a key component of earning your J.D. at Stetson, specifically due to the vast opportunities available.
"One of my personal favorites is the In-House Counsel Externship, because I run it," Professor Radwan said. "It is probably our largest of our experiential opportunities for our business law students — it's actually one of our largest externships on campus. It's a very popular one. It places students with in-house counsels somewhere in the Tampa Bay area. We've even had a few students in the summer get placements outside of Tampa Bay, and we will bring that into the program as well. It's an opportunity for students to see what it's like to be in-house counsel and even if they don't end up becoming in-house counsel, knowing what in-house counsel do makes them better as the external representatives of a corporation so that's a big one."
There are many other opportunities for business law students to gain practical experience; for example, students can be placed in tax externships or judicial externships that are related to business opportunities, like the bankruptcy judicial externships.
"Several of our students take advantage of more than one opportunity in the clinics and externships so they can compare and contrast," said Professor Radwan. "They get to consider what it is they're looking for in their own careers going forward."
There are also skills-based classes that provide students with practical knowledge, like the Negotiation and Mediation courses, that have skills-based simulation course opportunities on campus as well as external opportunities so students can see what it's really like to practice in these areas off-campus.
Writing requirements
Similar to other requirements, students in the Business Law Concentration must complete their advanced writing requirement in a business law area.
One way to complete the research paper is taking a seminar class that's focused on business law; for example, the bankruptcy seminar. Students can also complete the paper in other ways, such as writing their law review article on a business-related topic if they are a law review student, or doing an independent research project on a business topic, according to Professor Radwan. There is a lot of flexibility in how they meet the requirements, but it must be done in the business law area, as approved by their advisor.
Excel and accounting proficiency requirements
A unique component of the Business Law Concentration is the Excel and accounting proficiency requirements. These requirements were implemented to ensure that graduating students are ready to work in the business world.
Accounting requirement
While some students come from an accounting or finance background, those who do not have that experience are required to take and pass the Law in Accounting course, which they can do in law school.
Excel requirement
Since Excel is essential for so many organizations' business operations, the Excel proficiency requirement ensures students are able to use pivot tables, formulas, and other aspects of Excel that wouldn't otherwise be covered in law school, but are important for entering the business world. For students who do not have prior knowledge of Excel, Stetson Law offers a non-credit Excel training program that they must complete.
Both of these requirements ensure that students are prepared for what comes next, and this expertise distinguishes them from other law school graduates.
"We recognize that in order to be a good business lawyer, you need to be not just a good lawyer but a good business person," said Professor Radwan. "You have to be able to understand when you're in a meeting with the CFO the financial documents that the CFO is talking about and the fact that you know the law does no good if you don't also understand the business."
The JD/MBA program
While it's not a requirement, many students who do Stetson Law's JD/MBA program also complete the Business Law Concentration.
"We'll have some students who just do the JD/MBA and some that just do the concentration, but it's a very natural fit to consider both because those interested in them tend to be the same group of students," Professor Radwan said. "The good news is that a lot of the coursework is complementary. For example, you must take business entities for both the concentration and the JD/MBA program, so you have the opportunity to do both and to use some courses to meet both requirements."
Business law professors
Our professors are passionate about what they do, and inspire that passion in our students — even those who may not be interested in business law at first.
Professor Andrew Appleby, for example, is Stetson Law's tax professor and, according to Professor Radwan, inspires interest in tax law even in students who aren't big fans of math.
"Tax might not be something that most students come into law school thinking, 'I can't wait to be a tax lawyer. Then they take his class and think, 'Wow this is really fascinating stuff.' As you might expect, tax is math-heavy, and a lot of students don't come to law school because math was their favorite subject. So being able to take a group of students who might be math-reticent and make them excited about tax law — it speaks volumes about him and how exciting he is and how much he loves tax law."
Student organizations
As the Business Law Concentration grows, so does the number of relevant student-led organizations students can join.
"One of the things we're in the process of doing is trying to re-institute the Business Law Society," said Professor Radwan. "We'd like to see the Business Law Society become an active student organization again in part because it helps us promote things like the externship programs and the concentration, but also because it allows us to bring programming to campus that is of interest to those particular students. We have a group of students leading that effort over the summer, so that I think is going to become a reality in the next academic year."
Students can also join the Tax Law Society, Intellectual Property Society, and other niche, smaller organizations that are tied to a specific subcategory of business law. View all of Stetson Law's student organizations here.
A commitment to business law
Earning the Business Law Concentration at Stetson Law signifies to employers that you are passionate and excited about business law, and that you are committed to not only your law studies, but also becoming a worthy business professional.
"I want employers to know that, when they're seeing the student who has completed the concentration, these are students who really do want to do this," said Professor Radwan. "They're making the commitment to this area for their career. This is a student who is excited about this type of law and who truly wants to make this their life's work."
If you are interested in pursuing a career in business, Stetson Law's Business Law Concentration may be the right fit for you. You can learn more about the program, including specific course offerings and requirements, in the university catalog.
Topics: Law School Insider Tips