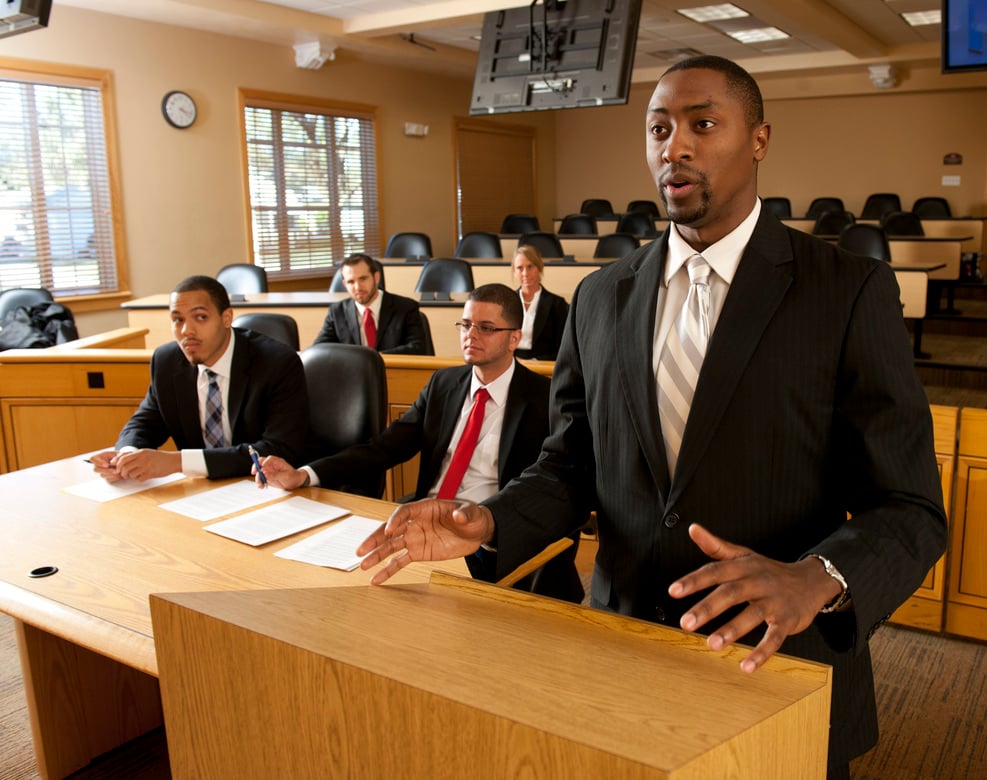 Whether you go into law school knowing which area of law you want to pursue or you would like to explore a variety of potential career paths, earning a concentration in an area of interest could be a great way to find new learning and mentorship opportunities, and also impress potential employers down the line.
Stetson Law offers six Certificates of Concentration that allow students to pursue further study in a specific area of interest while earning their J.D. These concentrations include:
How can you choose which concentration is best for you? What are the requirements for completing a concentration? We answer these questions, and more, in this in-depth guide to Stetson Law's concentrations.
How do the concentrations work?
Students typically start their concentration in the second year of law school, so they apply in their second semester of 1-L or the first semester of 2-L. That way, they have two years to complete the requirements of the concentration. However, this can vary for full-time vs. part-time law students, according to Stacey Turmel, Associate Director of Advocacy at Stetson.
"Usually, we require that [current students] have 21 hours under their belt, and usually what that means is if they're a full-time student, they'll come with 24-30 hours, finishing their first year, because they have such a strict requirement on what their 1-L curriculum is and there is no room to move there," says Associate Director Turmel. "We go with 21 hours just because there are some students who might be part-time, so when Stetson started to offer the part-time program, someone could be going to law school for a period of time, two years, and be at that point."
What requirements do concentrations include?
In general, for students to complete a specific concentration, they typically must complete specialized coursework, pro bono work, a research paper, clinics and externships, and mentorship. Exact requirements to earn the concentration, however, depend on the concentration. Get more details on the top concentrations in our blog post, Inside Stetson Law's Top Law Concentrations.
Specialized coursework
Across the concentrations, students must complete specified courses so that they can gain expertise in that subject area. For example, every student in the Advocacy Concentration must take the Trial Advocacy course as a baseline, says Associate Director Turmel.
"No matter what, they all have to take the Trial Advocacy class. So, they're all going to get experience in a courtroom, experience advocating, engaging in those critical thinking skills, developing facts and evidence, and making a persuasive argument."
After that, students can start to expand into different areas of interest in the Advocacy Concentration's required curriculum, choosing from Arbitration and Pre-Trial Practice to a number of electives.
Many concentrations are similar, having a baseline of required coursework and then providing different options based on what students want to learn more about.
Clinics and externships
In addition to required coursework, clinics and externships are required of all J.D. concentration-seeking students at Stetson. Stetson offers over 300 clinics and externship opportunities annually, so getting this experience is embedded in the law school experience. Students pursuing a concentration can choose from a list of clinics and externships that align with their concentration. These clinics and externships are important for students to find their passions and also figure out what they're not actually interested in.
"Several of our students take advantage of more than one opportunity in the clinics and externships so they can compare and contrast," says Theresa J. Pulley Radwan, Professor of Law and Faculty Director of the Business Law Concentration. "They get to consider what it is they're looking for in their own careers going forward."
Pro bono work
While a certain amount of pro bono work is required to graduate for all J.D. students at Stetson, in most concentrations, students are required to do some of their pro-bono hours in an area related to that concentration. For some of the concentrations, such as the Advocacy Concentration, students must do at least 10 hours of pro bono work on behalf of the Center for Excellence in Advocacy, in addition to meeting the general 60-hour graduation requirement for pro bono work.
There are many options for students seeking to meet their pro bono requirement regardless of concentration. It's easy for students in the Social Justice Advocacy concentration, in particular, says Kristen D. Adams, Professor of Law and Faculty Director of the Social Justice Advocacy Concentration. "We require that their pro bono work be done in a social justice advocacy area — that's not hard, because a lot of pro bono work is in those areas."
While you may not think of pro bono work as a natural fit for the Business Law Concentration, Professor Radwan states that they have existing opportunities and are seeking new ones to further enrich their students. "Pro bono is not necessarily something you think of in the corporate context — you don't normally represent corporations pro bono — so, what types of opportunities can we give to students to complete pro bono hours in a business-related field? Some of them work with a tax preparation placement, while some will help with the bankruptcy court because that has a lot of business aspects but also, obviously, you're representing debtors in bankruptcy, and that is a key component of pro bono work."
Across the concentrations, this pro bono requirement is key to testing the waters and determining your career path after graduation.
Research project
The research project that students have to complete to meet their concentration requirements varies depending on the concentration. For some concentrations, this means that the seminar paper, independent research project (IRP), or Law Review that is required for all upper-level students to graduate must be in the topic of their concentration.
For other concentrations, the project requirements are more specific. For example, for the Social Advocacy Concentration, students must complete a Directed Research Project (DRP) in addition to their upper-level writing requirement.
Mentorship
Many of the concentrations, although not all of them, have a required mentorship component. This benefits students in many ways, providing help in choosing courses, identifying career paths, and establishing connections.
The mentorship requirement of the Business Law Concentration is a key component of that concentration, says Professor Radwan.
"Mentorship is the biggest benefit students get from the program. Students could take all of these courses without being in the concentration. To me, the biggest benefit a student gets is they have a faculty member assigned to them as soon as they become a part of the concentration, and that faculty member's primary job is to mentor students throughout the program, and that mentorship changes.
Over time, we'll change from a curricular mentoring to a mentoring about how to start pursuing the career they want to pursue, what the first job might look like, which is often very different than what the third job out of law school might look like and might be their ultimate goal. The mentors help with that, and sometimes we defer to our colleagues if needed."
Mentoring plays an important role in laying the groundwork for career connections, according to Associate Director Turmel. "It's a great way to do things because the best way to get a job is to have a contact that helps you get a job. So from a mentoring standpoint, it certainly supports that networking opportunity, especially in your particular targeted area that you want to get involved in, so I think that that's really helpful too."
Other opportunities
Within the concentrations, there are student organizations, events, programming, and more available so that students can deeply engage within their interest area.
"There are also opportunities to study abroad within the U.S.," says Jasmine Mattear, Social Justice Advocacy, 3-L. "Two years ago, I did the Civil Rights Trip, which is this amazing opportunity that our school has, where we did a freedom ride through the South and we had Ernest "Rip" Patton, who was an actual freedom rider, travel with us throughout the entirety of the trip — riding on the bus with us as we met freedom riders, people who were children who participated in the children's march, and Civil Rights Icons."
Do I have to choose a concentration?
It is not required to choose a concentration at Stetson Law to earn your J.D. Unlike in undergraduate school where you have to choose a major, you can finish law school without earning a concentration. The Certificate of Concentration is in addition to the J.D. degree.
Will a concentration limit my ability to take other courses?
While a concentration provides you with the opportunity to delve deeper into a particular area, there is still room to explore other areas of interest, says Professor Radwan.
"As much as we do focus them in, we were very intentional in making sure, and I think this is true of all the concentrations, that there's enough room left in the 88 credits that they take to graduate that they're still going to be able to take some bar-tested courses and some other courses that just sound interesting, even though it has nothing to do with their concentration. We did try to make sure there's balance. We don't want them to spend all their time on one area to the exclusion of getting to think about other things. Because, at the end of the day, lawyers are thinkers, and they need to be self-directed learners, and we want to make sure they have lots of opportunities to do that in law school."
In the Social Justice Advocacy Concentration, there is some flexibility regarding coursework if a student is interested in pursuing a particular subject matter, says Professor Adams.
"We have a list of approved courses, but we also request from the Associate Dean that certain courses count for some students because of their specific areas of interest. For example, I have a student that is particularly interested in the intersection of health, education and poverty, and so she took our medical malpractice course. That's not an SJA course, but it is for her, and so given her particular area of study, we were able to ask the deans' office to allow us to count that course for her, and so there's a fair amount of individual tailoring that goes on as well."
All of the concentrations provide flexibility for students to explore what they are passionate about and cultivate their interests.
How can I decide if a concentration is right for me?
"I always tell students as they're coming in, don't feel pressured to do a concentration," says Professor Adams. "You don't have to do one. I tell them, typically, the way I recommend that they decide is look at the list of courses, and if you think 'Well, that's what I wanted to take anyway,' then you should do the concentration. If you look at the list of courses and you're very fearful that you won't be able to take a lot of other courses that are also of interest, well then maybe it makes sense to take a couple of those courses, but don't feel like you must do the concentration."
Professor Radwan recommends speaking with the concentration advisors in making a decision. "I think a concentration is a wonderful opportunity to really delve into one specific area, but students need to be aware that that may reflect as their only area of interest, and for some students that's just not the case. Students who are thinking about it they really ought to talk to the advisors in the program, whoever the concentration advisors are, and get a sense of what the career paths really look like in this particular area and see if that's really what they want to do in their career. I think they're wonderful, wonderful opportunities to get that mentoring and real depth that you might not get just from taking a series of classes for the student who really wants to do that for their career."
What does a concentration mean to future employers?
The concentration signifies a serious commitment to that area of study, says Professor Radwan.
"I want employers to know that, when they're seeing the student who has completed the concentration, these are students who really do want to do this. They're making the commitment to this area for their career. This is a student who is excited about this type of law and who truly wants to make this their life's work."
Concentrations at Stetson Law: Your path to specialized knowledge
Concentrations at Stetson Law provide students with the opportunity to hone in on a specific area of interest and gain practical experience that will benefit their career path in the future.
If you want to learn more about the concentrations, you can visit our Concentrations page to discover specific course requirements and more.
Topics: Law School Insider Tips