I meet potential law students all the time who often share their reasons for wanting to pursue a legal education. For many budding law students, their goal is to help or contribute on behalf of a cause or people. For those students who want to "give back" in some capacity, being a legal advocate is their goal.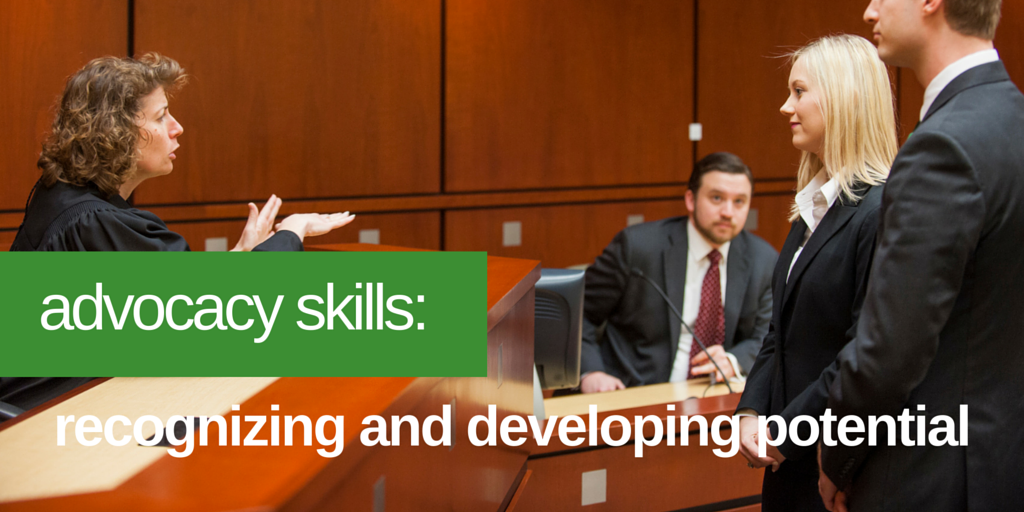 What is a legal advocate?
I'm sure there are many variations on the definition, but it is easily understood that an advocate is someone who supports, writes or speaks in favor of a person or cause.
For many students who plan to attend law school, capitalizing on their JD might include learning advocacy skills, the part of law school where skills training and applying legal procedure is the focus. Whether you have aspirations for the courtroom, the legislative room, the board room or the law firm, advocacy skills will be an integral part of your legal education journey and success.
I spoke to Advocacy Board members at the #1 advocacy program in the country and they shared some of their experiences as it relates to qualities within students who make the best advocates.
One member of the advocacy board called the overarching qualities that successful trial lawyers must possess the trifecta.
What is the trifecta?
1. Believability
2. Credibility
3. Likability
So, what does all this mean to an up-and-coming law student who has aspirations to be a trial attorney? Can such qualities in the trifecta be achieved or earned?
A top member of the advocacy board has seen patterns in student backgrounds that have translated well into advocacy success.
Consider the following:
Students who have sports and team participation experience have a strong work ethic and are competitive by nature. Student athletes also often learn time management skills.

Members of the military or ROTC training are disciplined, willing to put in the hours it takes for success, and are highly motivated.

Service staff and customer service is hard work, and they are constantly problem solving and using organizational skills that require the ability to "think on your feet."

Theatrical backgrounds can translate very well into the courtroom as well – you are onstage!
Leaders in legal advocacy have emphasized to me over the years – if you have aspirations to be an advocate by way of being a litigator, it involves commitment and endless hours of practice and discipline. Oh, and get used to being uncomfortable because you will be that a lot, too!
As an advocate or someone who has such aspirations, your success in such a future will be one of hard work. But if that is your goal, then stick to it and commit to the goals of being "persistent, professional and prepared."
This is a winning strategy!
Topics: Law School Insider Tips