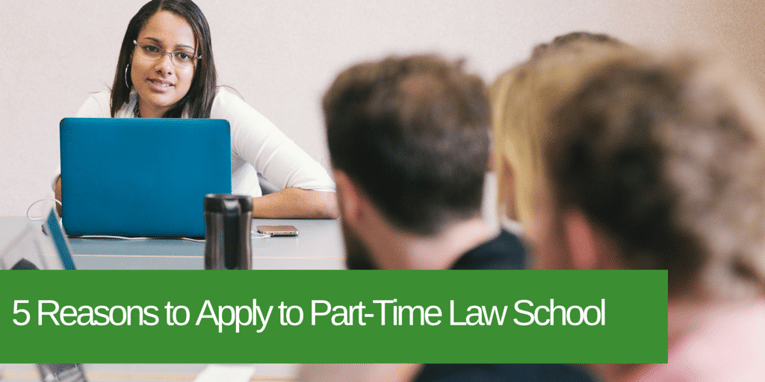 Do you already have professional experience, but lack the degree that would propel your career forward? Do you dream of starting a new career, but think you can't afford the time or money to go back to school? At Stetson Law, our Part-Time J.D. Program was designed with you in mind. From conveniently scheduled courses to our inclusive student community, consider the following reasons why you should apply to part-time law school.
Flexible Schedules
Our part-time law school programs offer classes when you can conveniently attend. Core classes are scheduled on weekday evenings after work hours, making them convenient for working professionals and parents. Additional classes are available on weekdays and weekends. Part-time classes are scheduled at both our Gulfport or Tampa campus locations.
Easy Application
Maybe it's not the coursework that keeps you from starting a part-time law degree program, rather the thought of wading through the application process and taking the LSAT! We get it. Applying to graduate school can be complicated, especially on top of your regular work or parent duties. That's why we participate in the LSAC's online application portal and Credential Assembly Service where you can start and save your application, then return to it when you have time. Start your application with your morning coffee, finish it after the kids go to bed, or vice versa.
Full-time Experience
Stetson Law is committed to the success of all our students, which is why we strive to offer the same resources to our part-time students as those in the full-time program. That includes evening hours for many departments, full access to all campus offices, recreational facilities and educational support and resources. Even our libraries keep late hours--the Gulfport library is open 24/7 and the Tampa Law Center Library is open until midnight.
Student Community
Part-time students at Stetson Law are part of the larger community and our massive alumni network. Join the Part-Time Student Society for support and advice from other part-time students. Part-time students are encouraged to consider other Stetson Law organizations, clubs and events. Check out the action at a Stetson Hatters game, express your creativity with The Arts Society at Stetson Law, or impact legal issues facing our country today with one of our legal advocacy groups.
Professional and Personal Fulfillment
The best reason to apply to a part-time law program is you. Whether you're dreaming of advancing your career or starting a new one, with the flexibility, resources and community support a part-time law program offers, there's no reason not to apply! And, you're going to get four years older anyway, so why not age while advancing your knowledge and skillset - it will change your life!
Topics: Applying to Law School