When you live in one of Stetson's campus owned properties, you'll instantly feel welcome and like a part of the Stetson community. Stetson's campus offers affordability, convenience, multiple living options and an enjoyable and relaxing environment.
Stetson University College of Law is one of the few law schools that own and operate housing for their students, which allows housing to be affordable. Housing options range from $500-$1300 per month depending on the property.
What is campus-housing like?
Stetson housing is conveniently located and allows you the opportunity to roll out of bed and into class or the library within minutes! The local grocery store is only a mile down the road and buses stop on campus to take you many places in the community, like the shopping mall, movie theater, beaches, and downtown St. Petersburg.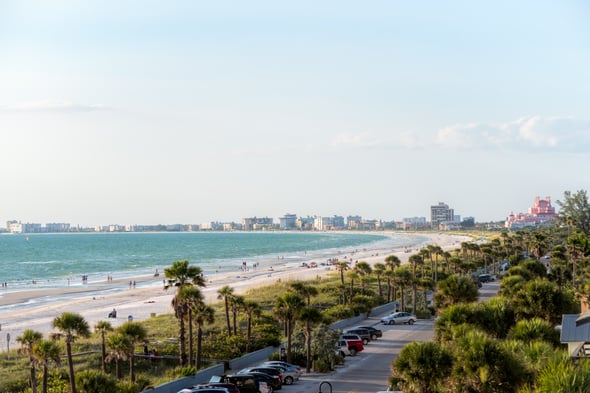 We have 49 dorm rooms located on the Gulfport campus, which are furnished spaces. Although each room is private, most do share a bath with another student. Since the dorms are leased per semester, you have flexibility to try different housing options throughout the year.
Want to live off campus?
Stetson also manages 32-unit apartment complex and 41 houses, all within walking distance to campus. The Rosa Apartments and the houses are leased annually and are unfurnished spaces, but major appliances are provided. We also have three furnished properties that are reserved predominantly for our international students. These are available on a first come, first serve basis.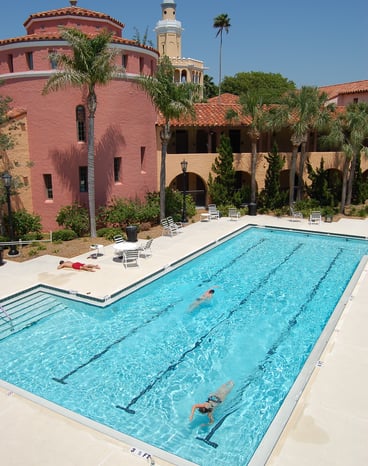 Besides the Stetson owned housing options, there are plenty of local rentals in our area. Once you get your student account and email set up, check out the off Campus Housing List on HatterSync. Check more than once as this list updates often. Also, if you want to find a Stetson student to be your roommate, just email housing@law.stetson.edu to request the current list.
What are the benefits of living on or near campus?
The College of Law offers many resort style amenities to all members of our campus community. To relieve stress and tension, take a refreshing dip in our swimming pool or build up a sweat in our state of the art fitness center. If you're feeling competitive, there are basketball courts, tennis courts and an athletic field located right on the beautiful Gulfport campus and sand volleyball courts down on Gulfport beach. The Student Lounge offers a billiards table for your indoor enjoyment. We have a campus laundry room offering coin operated washers and dryers, and we also have a full service kitchen located in the Student Lounge area.
As soon as you are accepted at Stetson Law and have paid your confirmation seat deposit, you should email housing@law.stetson.edu to request to be placed on the waitlist for Stetson owned housing.
We look forward to welcoming you to the Stetson community and are here to assist you with your housing needs. Please feel free to contact us at 727-562-7886 or email to housing@law.stetson.edu.
Topics: Law School Insider Tips, International Law